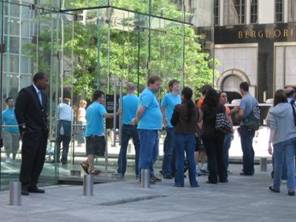 The Apple 24-hour flagship 5th Avenue store in New York is closed right now to the public. It will open again this Friday at 9am. According to many unnameable sources Apple is shooting a commercial for the 3G iPhone in the store.
I have not received a full confirmation on this, but it would make sense that this is the reason the store is closed. Apple is doing a good job to keep the iPhone press far enough away from the store. My sources say that you can not even cross the streets near the store without being pushed out.
Apparently this particular Apple store has only been closed for the iPhone and the Leopard launch.
-Alan Vazquez