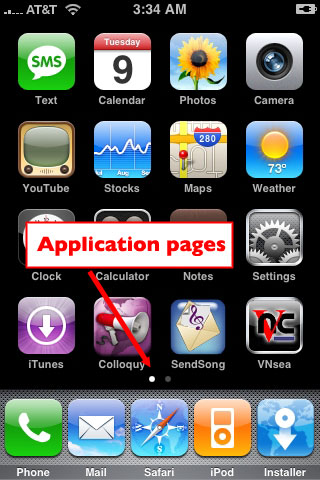 The latest version 1.1.1 firmware of the iPhone and iPod Touch has finally been hacked. It is now possible to add your own third party applications to any iPhone or iPod Touch.
Apple has also slipped in a new feature into the iPhone's firmware that lets you switch between application pages. This is a clue that their will be third party application support from Apple and you will most likely be able to download them from the iTunes store and iTunes Wi-Fi store. Hacker Niacin (aka toc2rta) and Dre have managed to combine the symlink hack with a TIFF vulnerability found in the v1.1.1 firmware's mobile Safari, which grants access to the file system. A guide to the 1.1.1 Jailbreak will be posted shortly!
Note: Apple needs only to patch the TIFF vulnerability and file system access on v1.1.1 is out, with the touch and iPhone back to their previously not-too-hackable state.