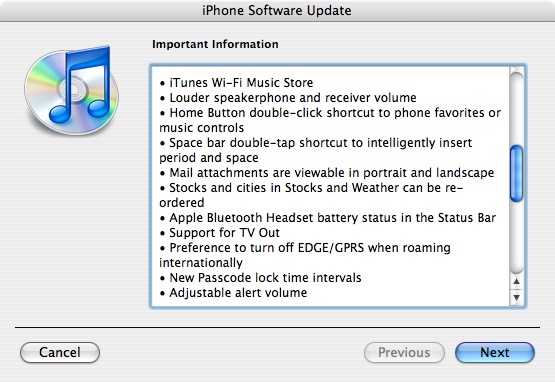 The new Firmware is out that will possibly BRICK your iPhone if you have unlocked or installed third party apps. Please do not upgrade your iPhone if you have modified it until we can confirm a safe solution for both PC and Mac users. Check out the change log below:
Firmware upgrades/fixes:
• iTunes Wi-Fi Music Store
• Louder speakerphone and receiver volume
• Home Button double-click shortcut to phone favorites of music controls
• Space bar double-tap shortcut to intelligently insert period and space
• Mail attachments are viewable in portrait and landscape
• Stocks and cities in Stocks and Waether can be re-ordered
• Apple Bluetooth Headset battery status in the Status Bar
• Support for TV Out
• Preference to turn off EDGE/GPRS when roaming internationally
• New Passcode lock time intervals
• Adjustable alert volume
Security notice
WARNING: Apple has discovered that some of the unauthorized unlocking programs available on the Internet may cause irreparable damage to the iPhone's software. IF YOU HAVE MODIFIED YOUR IPHONE'S SOFTWARE, APPLYING THIS SOFTWARE UPDATE MAY RESULT IN YOUR IPHONE BECOMING PERMANENTLY INOPERABLE. Making unauthorized modifications to the software on your iPhone violates the iPhone software license agreement, and the inability to use your iPhone to unauthorized software modifications is not covered under your iPhone's warranty.
Security related updates – Fixed bugs
• Bluetooth
Impact: An attacker within Bluetooth range may be able to cause an unexpected application termination or arbitrary code execution
• Mail
Impact: Checking email over untrusted networks may lead to information disclosure via a man-in-the-middle attack
• Mail
Impact: Following a telephone ("tel:") link in Mail will dial a phone number without confirmation
• Safari
Impact: Visiting a malicious website may lead to the disclosure of URL contents
• Safari
Impact: Visiting a malicious website may lead to unintended dialing or dialing a different number than expected
• Safari
Impact: Visiting a malicious website may lead to cross-site scripting
• Safari
Impact: Disabling JavaScript does not take effect until Safari is restarted
• Safari
Impact: Visiting a malicious website may result in cross-site scripting
• Safari
Impact: Visiting a malicious website may result in cross-site scripting
• Safari
Impact: JavaScript on websites may access or manipulate the contents of documents served over HTTPS