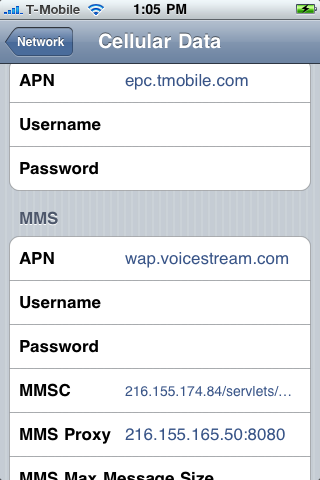 Hey fellow iPhone 3G T-Mobile users. Now that Ultrasn0w has unlocked our iPhone 3G for use with the 3.0 firmware lets take advantage of MMS. We do not have to wait to use MMS like AT&T users do. Setting up MMS is easy.
After you have jailbroken and unlocked you iPhone 3G with ultrasn0w go to:
Settings->General->Network->Cellular Data Network and enter these settings:
APN: wap.voicestream.com OR try epc.tmobile.com
Username:
Password:
MMSC: 216.155.174.84/servlets/mms OR try http://mms.msg.eng-t-mobile.com/mms/wapenc
MMS Proxy 216.155.165.50:8080
MMS Max Message Size:
MMS UA Prof URL:
Now just reboot your iPhone and enjoy MMS on your iPhone 3G!