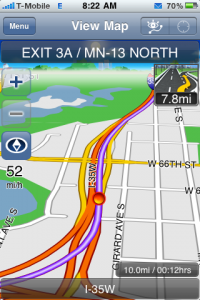 The creators of G-Map, XRoad Co., Ltd, have given us a copy of G-Maps to review and promo codes for you to win. Please check out the review below and be sure to enter in the contest! We will be giving away 5 copies of both East and West.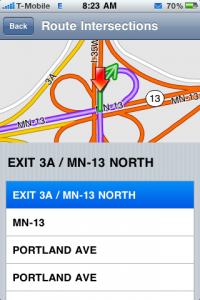 When you first launch the app, you will notice a very nice and simple layout as seen in the second to last picture. You can easily see exactly where you are by hitting the View Map button. As with all GPS units you need to be outside to get a good GPS lock. Testing the program indoors will not find your location that easy unless you are by a window.
Creating routes for use later is very simple with G-Map's Route Manager. You can view you current route, create and edit routes and even revers the routes. This is perfect if you travel to certain destinations frequently.
If you are on a current route and accidentally make a wrong turn, G-Map's will instantly create a new route to get you to your final destination.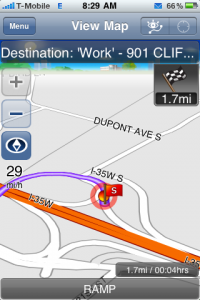 You will notice that if you are in an area of construction like I was that the maps may be old and not updated with the current info. I was on the highway that got rerouted and G-Maps instantly recognized it and recalculated the best route to take. It will put a red flag up as your new starting point as seen in the picture.
Another handy feature is the route preview. You can simulate the driving as if you were going 20-100mph. This is nice so you can get a preview of where you will have to turn throughout your actual driving route.
You can easily go back to the main screen at anytime to update your route with a new POI (point of interest). Say you need gas, G-Maps quickly finds the closest gas stations and tells you their name and how far away they are from you. There are many more options such as food, lodging, and rest areas.
G-Maps gives you a few nice options to choose from such as fastest and shortest route, Are you driving a car or truck (not sure what kind of difference this would make…). You also have the option to stay away from certain avoidances such as toll and unpaved roads.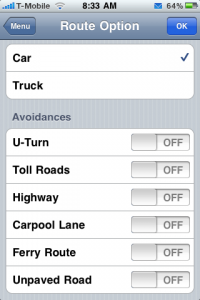 Advantages
-Very nice voice.
-Lots of voice commands.
-Updates your route on the fly if you go the wrong way.
-You can easily update your route with a POI (Point Of Interest).
-Lots of POIs to chose from. It will display the name and how close you are to them. This is very helpful if you need to see how far you are from the nearest gas station.
-Ability to choose the fastest or shortest route.
-Ability to avoid certain items like Toll Roads and Unpaved Roads.
-Ability to create, save, and manage routes as well as reversing them.
-Does not use Cellular Data!
-Priced between $19.99 and $34.99 only for a limited time. Here is the Direct Link to their iTunes Page.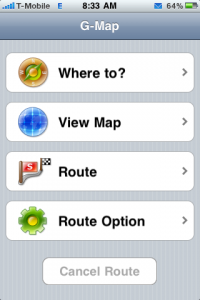 Disadvantages
-Volume is really low. If you have the radio on in your car it is hard to fully hear the voice commands.
-No landscape mode.
-Screen does not automatically dim or shut off. It is on the entire time so make sure you are connected to a power source if you are going on a long trip.
-Way too many Food options. This could be an advantage for some but most people would just like to see a list of all the options nearby. This application gives you a list of 61 categories such as: American, Thai, seafood, Mexican, etc. Once you click on the category it gives you a list of nearby restaurants.
-Take up 824MB of space on your iPhone (G-Map U.S. West version 1.3.1). You need to have double that free space initially to install it as iTunes extracts it and then cleans up the space.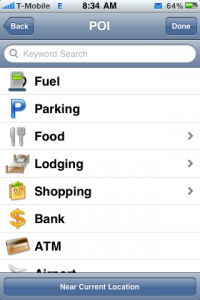 Currently for the price, I believe that this is the best GPS application out there as long as you are able to hook up the volume into your cars stereo. Hopefully they will fix the volume issue in the next update!
Coverage Areas:
WEST
EAST