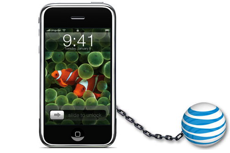 In my previous article I said that the iPhone 3G would not leave the Apple Store without an AT&T contract. Well, now I have been enlightened with some new information that I received moments ago.
Apparently (like I had speculated and questioned before) the iPhone 3G will be sold online at Apple and AT&T's online stores (U.S.). (Also Apple and all foreign carriers' websites) So say that you want an iPhone 3G, and you have a credit card, you can buy the iPhone 3G online but apparently, if you do not activate with AT&T in the 30 days after you get your iPhone, you will be charged a penalty. That is, you will be charged some money (not yet specified how much) for not activating with AT&T.
Now, remember that when Apple and AT&T were selling the 1st Generation iPhone, they did not accept cash or gift cards to buy an iPhone. They required a credit card. They also had a 5 (then 2) (not really) iPhone limit. This all was to lower iPhone re-distribution on eBay and such. Well, now I believe that they will require this to buy an iPhone 3G. Why? Well remember that 30 day Non-Activation Penalty? I believe that they will charge you the price of the full iPhone 3G (unsubsidized, equivalent to a current generation iPhone price $399-$499 USD), then after you activate, you will get a rebate (like most other cellphones out there today).
In the information that I received, I was informed of a confirmed, O2 statement that said that they will sell unsubsidized iPhones at 499 and 599 euros. That is to say that they will indeed sell unlocked iPhones at the current price. So if you sign up for a 2-year agreement with O2, you will get the iPhone 3G at the subsidized price of $199 (US Dollar equivalent).
So, will you buy the iPhone 3G? Will you sell your current iPhone to buy the new iPhone 3G? That is for you to decide. I will help you make that decision in the coming weeks with any and all new information. I predict that there will be much more to come.
-Alan Vazquez