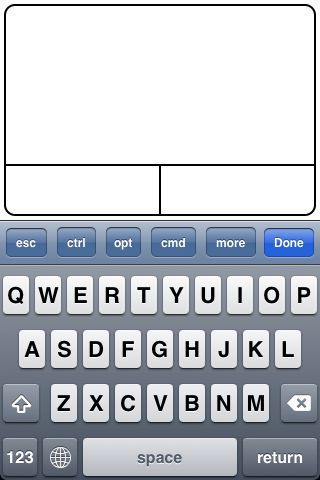 Hey everyone, sorry for the lateness on this one but T-Mobile has retaliated and I can kiss data good bye for now. I managed to get on for a few minutes, but that is it for right now. So now onto the review of ControlPad.
Well, ControlPad is a very simple application to use, as was iLaunch. Basically it allows your iPhone to act as a trackpad for your Mac OS X Tiger/Leopard, Windows XP/Vista, or Linux Unbuntu enabled computer! This is done over Wi-Fi, no internet connection necessary, just make an Ad-HOC connection on your computer.
A really useful thing that they did was add step by step instructions for all of the operating systems I mentioned above! So just purchase, open the app, follow the simple instructions, and you can start using it as you feel fit.
This is useful for when you are either tired/lazy or in some cases incapacitated for whatever reason. It also gives you a familiar keyboard to use, and as we all know, texting is our thing, and I found that typing on my iPhone is faster than on a computer in some instances.
So check out ControlPad! Its available on the iTunes App Store for a low price of $2.99 ! This is a very useful app and I recommend it if you are lazy or need some way to type or use the track pad for whatever you feel the need to.