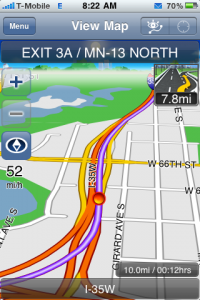 Winners List
East
Lisa
L Prentice
Thomas hanley
justin
Jimmy
West
JumpShooter34
Julius
Aj
Thibber
Casey
Winners will be notified via email!
Please make sure that your check out the review for G-Maps and then leave a comment below and make sure you list that you want East or West. We will be giving away 5 copies of each for this weeks promotion. Please note that this app will not work on the iPhone 2G as it does not have a GPS chip.
Sorry for the late start. We will extend this promotion into the next week. It will end Wednesday night. Our official rules still apply.
•Leave a comment below. Make sure you list East or West.

•You may only enter this specific giveaway once. If you enter this giveaway more than once you'll be automatically disqualified. We have iPhone OS enabled robots, that not only kick ass, but they also check to ensure fairness. In other words, be careful when commenting or our very own iBot will be very angry.
•Winners will be chosen randomly.
•Prize: Promo code for one copy of G-Maps East or West for iPhone, $34.99 value.