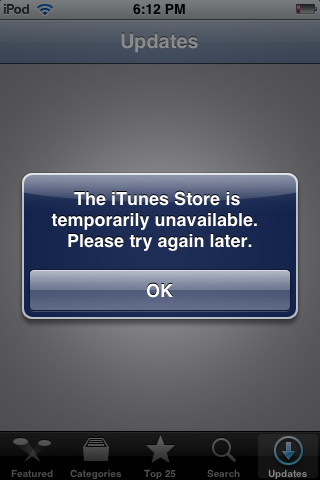 UPDATE: Alright guys, I feel that the App Store is good enough to expire my warning. It's running alright, not perfect, there are still some errors downloading and updating applications.
Alright guys, this is what I have on my iPod touch. I have also been hearing reports of this from all updaters, and some people that haven't updated. It appears that Apple has disabled the updating feature on the App Store. The reason for this is that they are most likely trying to relieve their servers as much as they can, due to the 30+ million people trying to download firmware. (Remember, iPhone OS wasn't the only thing updated today, iTunes, Apple TV, and more were updated at the same time)
So hang on guys. Wait until tomorrow or Sunday morning. I did manage to update my applications through iTunes 8.0.2 at about 3:45pm today, but since then I can't even update Genius it's so crowded. So good luck trying to update anything for atleast 24 hours. I'll update this post when Apple has re-enabled the "Update" feature on the App Store application.