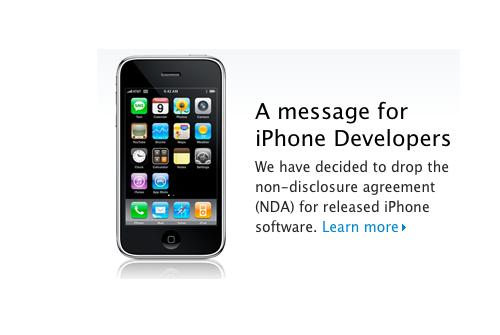 Hey all. Sorry for not posting anything in about a week, but frankly there hasn't been very much to post about until now. So, let's get started. Today Apple announced that they were going to lift their NDA (a software nondisclosure agreement) that prevented anyone who signed it permission to talk about the inner workings of the iPhone and iPod touch. Why is this good? Well, more freedom for developers (whew, I thought this would never happen), also authors whom have written iPhone based books on how the iPhone OS works, or how to make an application with or without the SDK can now freely publish their delayed books. This should also improve the relationship between Apple and the iPhone, with other 3rd party companies.
Dave Thomas, a co-founder of Pragmatic Programmers, a publisher and consulting firm, had held back the publication of iPhone books and other products because of the NDA, all he had to say today was "A great huzzah! was heard through the land." well said.
Another great part about this whole thing is that now companies can now speak a little more freely about new and more innovative applications, because due to the NDA, their space was even more limited than by the App Store criteria. Here is what Steve Jobs and Apple had to say:
"We put the NDA in place because the iPhone OS includes many Apple inventions and innovations that we would like to protect, so that others don't steal our work. It has happened before. While we have filed for hundreds of patents on iPhone technology, the NDA added yet another level of protection. We put it in place as one more way to help protect the iPhone from being ripped off by others."
"However, the NDA has created too much of a burden on developers, authors and others interested in helping further the iPhone's success, so we are dropping it for released software. Developers will receive a new agreement without an NDA covering released software within a week or so. Please note that unreleased software and features will remain under NDA until they are released."
What stolen innovations is Steve Jobs talking about? I am honestly not sure. Perhaps some of you know? Hit up the comments, and tell us what you think.