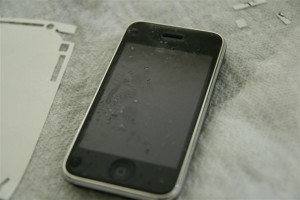 Have any of you had your iPhone "accidentally" wet? Now I don't mean dropped into the toilet, or possibly, I don't know, dropped it in alcohol (mike). But more along the lines of perspiration or humidity.
Well, Apple's stance on this "wet-iPhone" policy was that an Apple Genius could not replace your iPhone, the only way to get a new iPhone was to pay $600 for a new unsubsidized phone, plus a new 2-year contract. A double whammy, tough policy.
Well, starting on Sunday, you may go to your local Apple Store, and have them replace your iPhone for a refurbished iPhone for just $199. This doesn't matter if you have the iPhone plan or whatever. As long as you have an iPhone 3G and "accidental moisture" got into the iPhone, all you have to do is shell out $199, and you are good.
Much better than the $600, plus a new contract. So even as of this change, try not to get your iPhone wet. It really isn't worth it.