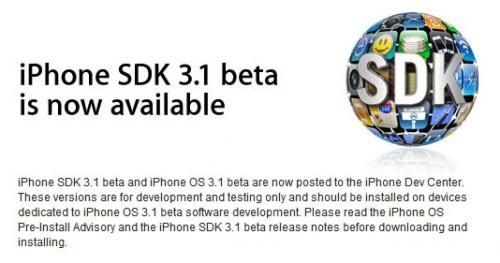 Yes everyone, this is breaking news here at Limited Edition iPhone. It seems Apple has listened to some minor instability issues (and also wants to kill ultrasn0w), so iPhone OS 3.1 beta 1 has landed into developers hands just a few moments ago. Developers can go here to download the new sdk.
Do not update to this when it comes out (possibly in the next couple of weeks) if you want to unlock or want to keep the capability of unlocking.
New "features" found so far include:
• Trimming video clips on the iPhone 3GS now offers the ability to save the edited version as a copy rather than simply overwriting the original file.
• Voice Control over Bluetooth is now available, allowing users to Initiate calls and control music playback via Bluetooth headsets.
• MMS is now enabled by default, but still not supported by AT&T.
• iPhone vibrates when rearranging Home screen icons.
• A "Fraud Protection" toggle is now available in Safari settings.
• iPhone startup and shutdown and app launching times have improved.
• New APIs allow developers of third-party application to access and edit videos.
• OpenGL and Quartz have seen improvements.
• Also, baseband has been updated to 05.08.01
I will update this when we can find new features in 3.1. Stay tuned…