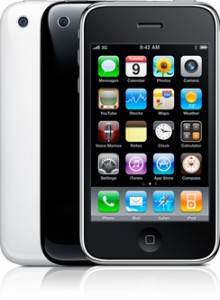 Now that Apple has announced the iPhone 3GS, LEI will have a few of the officially unlocked 3GS iPhones for sale. Please follow this page to stay updated with a release date and pricing. Models will range from 16GB, and 32GB in Black and White Colors. You can be sure that we will also have a Limited Edition Pink iPhone 3GS as well.
The iPhone 3GS will have:
-3MP camera with auto focus
-30 FPS VGA with Audio
-Auto White Balance
-Auto Exposure
-7.2Mbps HSDPA
-iPhone OS 3.0
-Voice Commands (Use your voice to place a call or play music)
-Digital Compass
-Nike+ Support
-Improved Battery Life Up to 5 hours talk time on 3G and 9 hours on WI-FI.
UPDATE: We are now taking Order Please visit this link to order: http://limitededitioniphone.com/factory-unlocked-iphone-3g-s-32gb-for-sale/