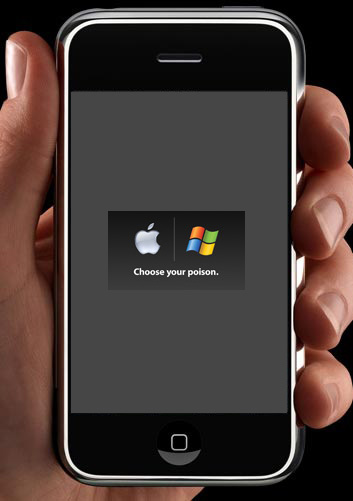 We've all heard of dual-booting desktop and laptop computers with multiple OS's. There's nothing cool or revolutionary about dual-booting on desktop computers, but what about dual-booting your iPhone?
Think of the infinite possibilities. iPhone developer/hacker extraordinaire, Jonathan "NerveGas" Zdziarski, has posted detailed instructions for installing/booting multiple Operating Systems(firmwares) on the iPhone. The method allows for the installation of, say, both the (Soon to be released) iPhone v2.0 firmware and the incredibly simple to hack, iPhone v1.1.1 firmware simultaneously. Or, mabe even a new Windows Multi-touch, or Linux Multi-touch? Who Knows? I'm not a big fan of Windows, Linux, Solaris, or any other operating system besides Mac/iPhone OS X, but heck, there's people for everything.
Following/Executing the instructions released by Jonathan "NerveGas" Zdziarski, I will walk you through a sample jailbreak scenario with 1.1.4 using 1.1.1. To do this, you will create a new partition on the iPhone and install version 1.1.1 on it. You will then upgrade the iPhone to v1.1.4, which will leave the new partition intact. You can then dual-boot the iPhone, allowing you to mount 1.1.4's partition using the 1.1.1 partition.
Dual-Booting the iPhone could prove a solution to the jailbreaking and not jailbreaking conundrum some iPhone owners face. This may, theoretically, allow you to run and install Apple's sanctioned applications from the app store, and at the same time run and install the unofficial iPhone apps that we have all become accustomed to know and love.
Dual-Booting has truly and honestly been one of my goals to complete, but it seems that "NerveGas" has once again proved to us that the iPhone Dev Team is the best. Kudos to you all.
So as of right now, some of you may be wondering "How the heck would I go about doing this?" First, let me start off by saying that nobody is telling you to jailbreak or even go and start Dual-Booting, but if you really want to be able to Dual-Boot your iPhone or iPod touch, here's the link to "NerveGas"'s official Dual-Boot papers. It's pretty complicated for non-experienced users, but I know you all are going to do it anyways, so here it is, go to:
http://www.zdziarski.com/papers/dualboot.html
The link above will give you a detailed overview and step-by-step tutorial on how to Dual-Boot.
So be careful and follow everything very very closely. While everyone else is dual-booting their desktops and Laptops, I'll be dual-booting my iPod touch and iPhone.
– Alan Vazquez