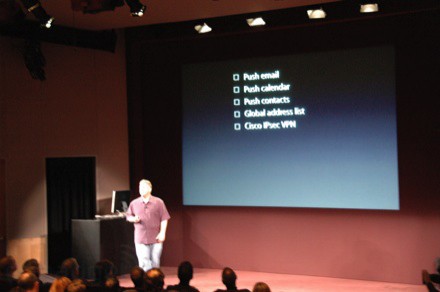 Apple has finally listened to their customers. They want enterprise features, so business people can move away from the crackberrys and onto the iPhone. Some features we can expect to see in the next firmware include: push contacts, global address list, Cisco IPsec VPN, they want authentication and certs, enterprise class WiFi (WPA2 / 802.1x), security policies, enterprise configuration tools, and remote wipe.
"Our customers have asked us to build in MS Exchange right into the iPhone — we have licensed ActiveSync for the iPhone."
-Thanks Engadget for covering the event!