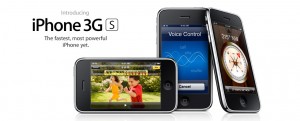 The iPhone 3G S cannot be locked to a single carrier in Australia. Therefor Apple has to sell the iPhone 3G S unlocked straight from the factory. That means that you can use it anywhere in the world on carriers that support GSM. You do not have to wait for someone like the iPhone Dev Team to come out with an unlock to use the iPhone 3G S on an unapproved carrier.
Limited Edition iPhone will have only a few of these 32GB Black iPhone 3G S's available. Please leave a comment below if you would like to preorder one. They will be imported from Australia to USA and then to your final destination. Please note due to the fact that they are shipping from Australia, they may take up to 2 weeks before you receive them depending on your location in the world.
Preorder now to secure a iPhone 3G S Black 32GB from our next shipment. Pricing is $1300.00USD.