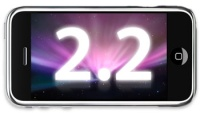 Alright guys, yet again, we've called it! As we had reported earlier, firmware 2.2 was released as a midnight release at exactly 12:00 am Pacific, 2:00am Central Time. This is particularly strange, Apple usually releases firmware at 10am Pacific time, but I guess they were really anxious to get this out. One of my friends and readers asked me why I had said 10am today if it was going to be released at midnight, well, I'm sorry, but that was the information that I had and it actually was a surprise to all of us, so sorry about that.
Anyways, we here at Limited Edition iPhone cannot give a review of iPhone OS 2.2 as of yet due to the fact that we have not updated yet.
NOTE: All iPhone 3G users, if you ever want an unlock, then I suggest not updating your firmware, or you may never have an unlocked iPhone 3G. The iPhone Dev Team is very close to a full soft-unlock. As for 1st Generation iPhone and iPod touch users, if you are jailbroken or unlocked, I am also issuing another warning, DO NOT UPDATE or you WILL BRICK YOUR DEVICE!
As for me and the rest of the iPod touch 2nd generation users, I suggest updating to iPhone OS 2.2, a jailbreak isn't too difficult to achieve on different firmware. A downgrade is in the works, so don't freak out, we will have a jailbreak as soon as the iPhone 3G is unlocked. .
Please stay tuned in with us here at Limited Edition iPhone for all of the iPhone OS 2.2 news and much much more…