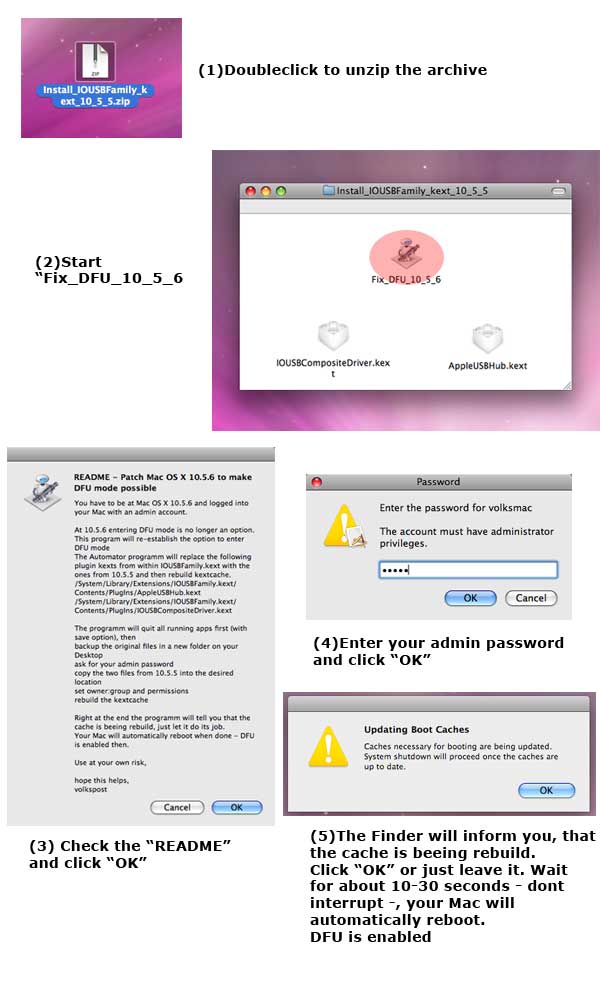 USE AT YOUR OWN RISK! These files are corrupted for some strange reason! Use the manual method described in a previous post.
Hey guys, I have a solution to all of your DFU related problems on the latest Leopard build. As we reported earlier, Apple's 10.5.6 Leopard update disabled DFU mode, now previously it was believed to be a bug, but by now, to me, this seems like it was another failed attempt to stop the iPhone/iPod touch hacking community. Well guys, let's fight back. This is a 100% "software solution". Unlike the previous method (which had to do with hardware and unplugging and reinserting cables and what not), all you have to do is extract zip file, and click your mighty mouse a few times, and enter in your password, and bam, DFU mode once more! Just click on the link below to get in all of the DFU action on the new Leopard build. (Now, a lot of this stuff was previously reported on, but this is all automated and easy to do)
UPDATE: I have taken the link off due to the reason that some people are having problems with the application. I will repost the link when I fix the problem.