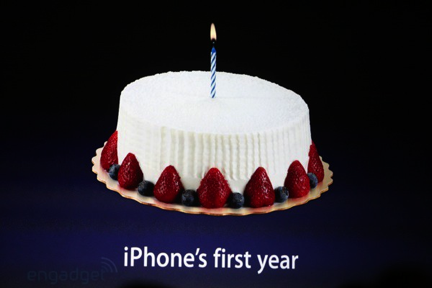 Today is June 29, 2008, and on June 29, 2007 Apple launched this revolutionary multi-touch device that we have all grown to know and love. This iconic device made it's way to the first person in the U.S. at 6pm exactly 1 year back. So congratulations iPhone! You made it to 1 year and you still have the same amount of hype! So let's hear it! So just stop and think about all of the fun times that you have had this past year hacking your iPhone, rubbing it in your friend's faces when you got one, and think about all the times that you had fixing your iPhone, and remember all the fun times that you had visiting us here at Limited Edition iPhone and I say don't just remember, keep on doing what you love most! (Especially visiting us).
So, what have we accomplished thus far with the iPhone?
*The first iPhone unlocked, George Hotz was a super star when he unlocked the first iPhone. He was on the cover of magazines, and on CNN and all of the news networks. I wonder who will take his place this year?
*Then, the first software unlock, this was the beginning of a revolution against corporate contracts.
*Then shortly after came the Jailbreak, which allowed you to basically do anything that you wanted to do with your iPhone, from adding all of those sweet applications, to changing the look of the device.
*Then it seemed that we were at a software war with Apple, they shut us down, but we started right back up.
*Then the firmware battles began. Firmware 1.1.1 was the tipping point, this was the simplest version to hack. Using the TIFF exploit on the iPhone we could resume our operations, also, the iPhone had it's cousin join in the games.
*Then an Installer.app was made directly on the device. Which allowed you to download apps directly on to your iPhone or iPod touch.
*Firmware 1.1.2, just shortly after, which allowed us touch users to have calendar editing. This was also the firmware that destroyed the TIFF jailbreak and bricked many iPhones.
*Firmware 1.1.3, this was the biggest change to the iPhone and iPod touch, giving us many new abilities, edit home screen, multiple SMS, web clips, new Maps application, iPhone apps on the iPod touch. And much much more. This was when Gear Live exposed the leaked firmware, there were skeptics and there were believers. Then the soft-jailbreak was introduced. This decrypted firmware and loaded it directly into your device.
*Firmware 1.1.4, this was the biggest surprise, the firmware did exactly what it said it would do, fix bugs that firmware 1.1.3 had. This was a clear sign that Apple was going to change their way of doing business.
*The Pwnage Tool, this revolutionized the way of jailbreaking and unlocking the iPhone and iPod touch. This was Mac only, it allowed you to patch the bootloader so that it would skip the code signing checks. Then you could restore with custom made firmware. The first official demo was in Moscow on March 29.
*WinPwn, this was one of the biggest advances, HFS support on Windows. Something that was unheard of before. This allowed you Pwn your iPhone or iPod touch just like in The Pwnage Tool. There were many betas and much waiting to do. This was the first application that allowed you to put any package that could be found in Installer directly in the firmware.
So now what? What's next? Well, we will have to wait and see what the future holds. So let us just hope that the tradition of iPhone unlocking and jailbreaking will continue on with this new contender, iPhone 3G.
-Alan Vazquez