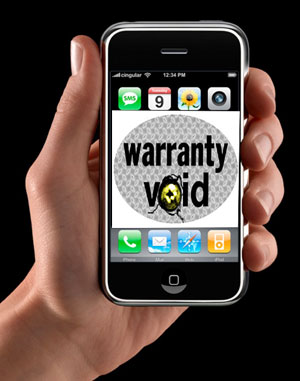 It seems as though Apple is starting to feel the pressure of AT&T with regards to unlocked iPhones. Apple has an exclusive contract with AT&T and has to show that they are not violating the contact and prove they are taking action against people who unlock iPhones.
With the upcoming firmware update we may see functions of the iPhone no longer work if they have been modified with either unathorized software installed or if the phone was unlocked. Apple has stated that unlocking your iPhone and installing third party apps will void your waranty.
"Apple has discovered that many of the unauthorized iPhone unlocking programs available on the Internet cause irreparable damage to the iPhone's software, which will likely result in the modified iPhone becoming permanently inoperable when a future Apple-supplied iPhone software update is installed. Apple plans to release the next iPhone software update, containing many new features including the iTunes Wi-Fi Music Store (www.itunes.com), later this week. Apple strongly discourages users from installing unauthorized unlocking programs on their iPhones. Users who make unauthorized modifications to the software on their iPhone violate their iPhone software license agreement and void their warranty. The permanent inability to use an iPhone due to installing unlocking software is not covered under the iPhone's warranty."
The beauty of a software unlock is that it is fairly easy to revert back to a virgin state if need be. If you have modified your iPhone and need to have it serviced under warranty all you have to do is do a virgin restore and nobody will be able to tell that it has been modified.