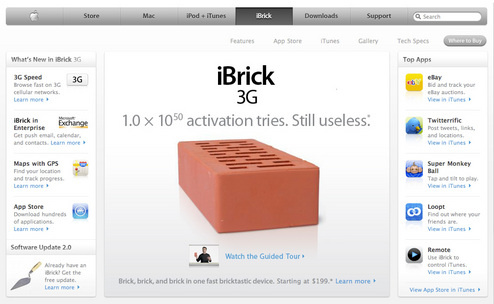 Yes everybody, the iPhone 3G is having many problems, both on AT&T's side and on Apple's side. Activations were ceased at 9:30 am Eastern Daylight Time nation wide. Many customers are being sent home with their iPhone 3G's to activate them at home just like the 1st generation iPhone. Problems with Apple's iTunes 7.7 have surfaced. The utility used to activate the iPhone 3G has apparently failed, and all Activations in the US have ceased. This launch is not going as smoothly as everyone thought it would. Problems with iTunes 7.7 started to occur last night after some users downloaded and installed iTunes 7.7, Some users had problems and others did not (like me). As you might imagine, there are many outraged customers that are standing in line as we speak. One man told Computer World that he was "getting quite perturbed" when told that there was a problem with activation.
Also the huge problem this morning is iTunes. iTunes is failing everywhere in the US. Countless people are having difficulties even opening iTunes. As of now a vast number of users cannot even access the iTunes Store. Also, when attempting to download iTunes 7.7 on Apple's site, users are shocked to find a "page not found" error. Many users on online forums around the internet are having these problems. "It is stuck 'accessing the iTunes Store'…" said Ray Camden of the coldfusionjedi site. "Apparently the iTunes Store is overloaded and the stripped down iTunes app that they have just hangs at the accessing iTunes screen," Faas said in an e-mail update. Faas also said "So, right now I'm sitting at home with the same accessing iTunes Store hang on my computer….Oh well, at least I set to look at a shiny new paperweight in the meantime"
Now all of you who doubted me in the past few hours of users having problems with iTunes, let me just say that "I told you so" doesn't cut it here. More updates on this iconic devices debut to come in the next few hours.
-Alan Vazquez
UPDATE: If you are having problems activating your 3G iPhone leave it plugged into iTunes for up to 20 minutes after you received an error message and it should activate it for you.