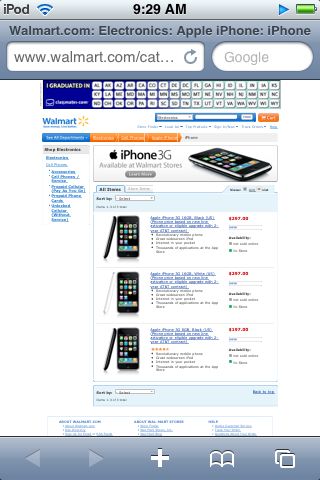 Alright guys, this time it's 100% official. Reports of some Walmart stores carrying the iPhone surfaces a couple of days ago, but nothing was 100% certain in that department. So I waited until I got confirmation from Walmart Inc. directly.
There is no $99 iPhone 3G guys, I knew this was completely false so I didn't even bother writing on it.
The iPhone 3G will come in all 3 flavors, a black 8 GB will sell for $197, a black/white 16 GB will sell for $297.
A few things of note are that you can not buy this online, it is only available in store. The biggest thing of note is that these are all subsidized prices. (Subsidized means with 2 year contract)
So that's just a little tid bit for you guys here in 2009! Alright guys, more to come about other things soon…