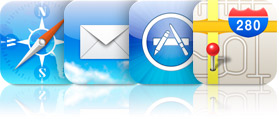 Wow, Apple is wasting absolutely no time at all in bringing out the iPhone 3G. I received an e-mail from Apple late last night and it described what was the iPhone 3G tutorial. I check out this tutorial and it shows some pretty interesting things. The first is that it shows the finished iPhone 3G product. I'll explain my findings.
Hardware:
As for hardware, I noticed that at the bottom of the iPhone, not only did Apple change the speaker and mic, but that it had 2 huge screws, one on each side, of the dock connector. This is very odd as Apple is very famous for hiding such screws for sight on any/all of their products. Also, apparently the sound quality from the speakers are quote "dramatically improved…and deliver dramatically improved audio"
Software:
As for software, this tutorial seems to have shown the "master gold" version of 2.0. Which helps to confirm reports of such a firmware to have existed and to have been delivered to Apple's enterprise developers last Friday. This tutorial shows the App Store in action, and some features that I had hoped for. As for the App Store, apparently when you purchase an application it doesn't have a queue like in the iTunes Wi-Fi music store, but t rather sends you back to the home screen and it shows the app downloading with a progress bar on the icon. Very cool. Also, it shows the new and improver Mail application. (No 2 pane view though) It now shows Mobile Me as an option. Mass delete and move, and such. It also showed the new calculator in action. It also showed the new GPS compatible Maps application, it showed tracking and such. There was also something that I had wanted for a long time, now there is a badge on the Calendar application. The badge shows how many new events or invitations you have. Very cool. Firmware 2.0, also has the contact search, (they changed "Parental Controls" to "Restrictions", the Preferences.app (Settings) looks completely different. You can also save pictures from Safari and Mail. They really changed it and added way more functionality. There is so much more. All I hope is that the iPhone Dev team will be able to hacktivate, unlock, and jailbreak this new firmware.
Where to watch:
You can view and download the guided tour here.
Or you can view the ad for the iPhone 3G here.
So that's it. It seems that Apple has added way more new features to firmware 2.0, (well way more than I anticipated.) This firmware is expected to hit iTunes on July 11th. Also I hope that we get a jailbreak and unlock in the first 1-2 weeks like all of the other firmwares.
-Alan Vazquez