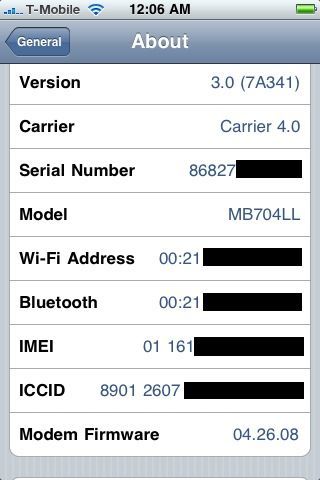 Hey everyone, am I excited to tell all of you some very interesting news. The iPhone Dev Team have released a statement just a little while ago. Well, my suspicions were proven right today as the iPhone Dev Team has claimed victory on iPhone OS 3.0!
They have stated that they have unlocked the latest iPhone 3G baseband 04.26.08 that is found in 3.0 (7A341), which will be released to the public Wednesday morning.
If this wasn't enough I strongly believe that the iPhone Dev Team has found a new "pwnage-like" unlock. In other words, an unlock like on the original iPhone, which can be described in one word. Permanent.
The iPhone Dev Team will demonstrate their unlock method tomorrow night at an undisclosed time & an undisclosed URL which will be announced on their Twitter account shortly before the demo begins.
Also, for all iPhone Classic, iPhone 3G, iPod touch 1G, and iPod touch 2G users, prepare for an iTunes 8.2 compatible jailbreak shortly after Apple releases 3.0 to the public.
I will also be showing you all how to activate some hidden 3.0 features either Thursday or Friday, after I have jailbroken and unlocked my iPhone 3G and tested my enabling methods. I only hope that Apple kept them in the final OS. I am also going to attempt to activate Jibbler (Voice Control) and the percentage next to the battery. Voice Control has nothing to do with any special chip in the new iPhone 3G S, its pure software from what I can see.
iPhone 3G users, I would not recommend updating to 3.0 when it hits Apple's servers until we get more information on how this is all going to go down. You may need to make custom firmware. So wait and stay tuned here for more information.