Hey guys, well it's been a little bit since I've updated to iPhone OS 2.2, so I just wanted to talk about some little tweaks that I found in the iPod touch (2nd Generation) version. Now these are Apple documented, and some that are not.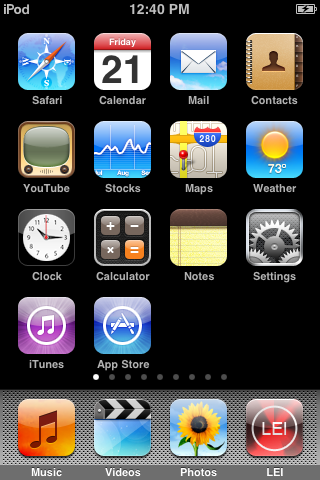 Alright, let's start with a little last miniature update to the Springboard application. Now you can go to the 1st home screen by pressing the home button on any other home screen. Its a very cool and useful trick.
Note: I encourage each and every one of you guys to grab my newly designed LimitedEditioniPhone.com icon! I fixed the issue when the transparency would disappear or Safari would scale down my icon, then make the web clip so that it would look funny. So just go into Safari, load our home page, and then tap on the "+" icon, and name it "LEI" for example (as I do on mine). So now you have Limited Edition iPhone just a single tap away!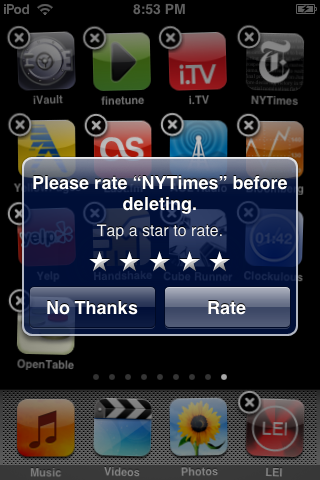 Here is another last minute feature that we had no time to report on last night before iPhone OS 2.2 was released. Now, when you go to delete an application from the App Store, it will prompt you to rate the application on a 1-5 star basis. (I find this very unnecessary, due to the fact that you only delete applications if you don't like them, only deleted "NYTimes" for this screenshot.)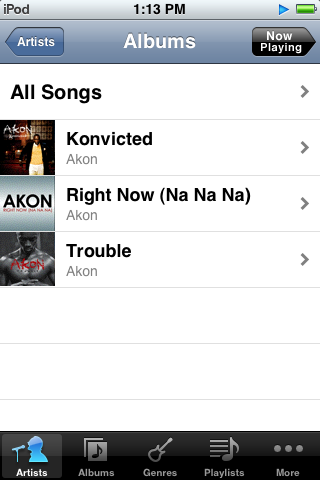 Here's another update that Apple didn't take a note of. Now if you recall, iPhone OS 2.1 had a new UI tweak for the MobileMusicPlayer.app, with just songs, well, now they have added that feature to the albums as well.
Another useless little update, is the calculator has an updated icon. It has the + or – icon different than in previous versions. Compare and contrast.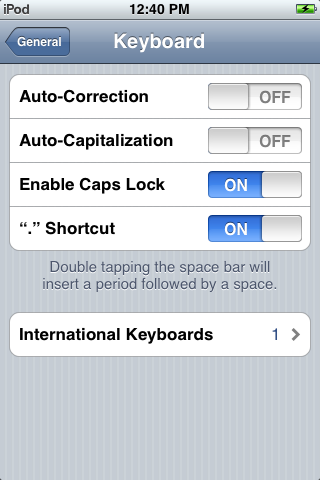 This is a big one. Auto-Correction can now be disabled! The petition that was circling around the web worked, and now Auto-Correction is no more! (If you don't like it)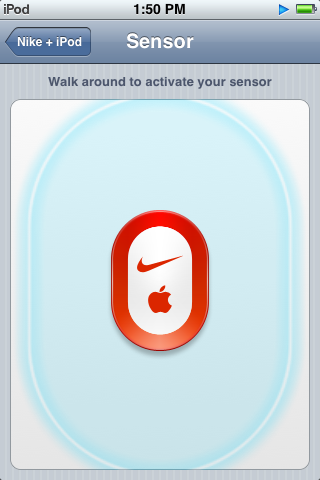 The iPod touch (2nd Generation)'s Nike+ feature has been updated with some bug fixes, that I have seen. My Nike+ puck is recognized almost instantly, where it used to take forever to recognize it.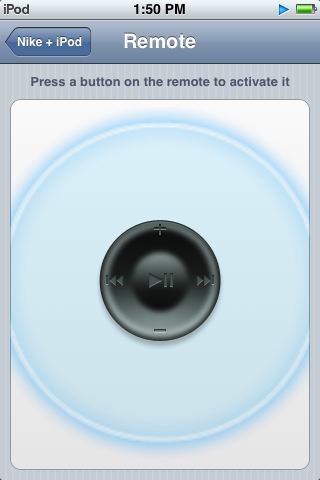 This is new, I found this in the Nike+ settings panel in the Preferences application. (Settings icon). I am not 100% clear on this one, but I think that this is to use the Apple Remote on Macs and Apple TVs to control your iPod touch. If anyone has any definitive answers, please leave a comment.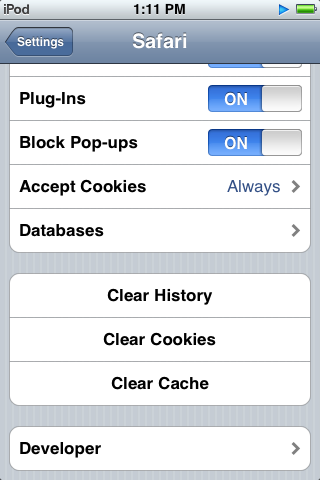 Here's something new, the Safari preference panel has something new, it's called "databases". When I tap on it, it was language databases. Not sure what this does exactly, but maybe one of you knows, leave a comment and tell me about it.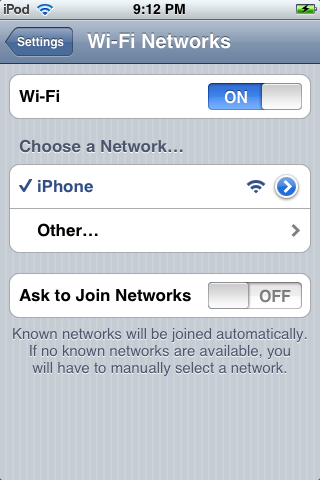 Yes! Yes! Yes! It is here, ladies and gentlemen, the Wi-Fi connectivity fix for us iPod touch 2G users! It used to take a restart or a turn-on, then turn-off, Wi-Fi workaround, in order to connect to any Wi-Fi, even on my home network, and now its fixed! 😀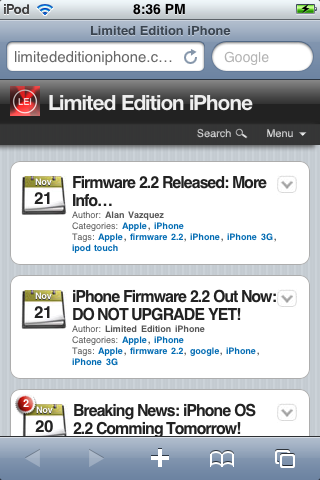 Here you go, as we previously reported on, a new Safari UI. This new UI is really cool. It took me a little to get used to it, but I'm good now. Pages load faster, vulnerabilities are now fixed. It doesn't lag then crash all of a sudden anymore. Nice job Apple!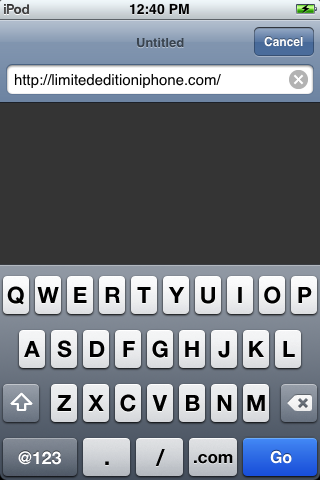 More on Safari, now the URL bar and the search engine bars are separate, which means that you have more space to type on, such as my favorite URL above. 😀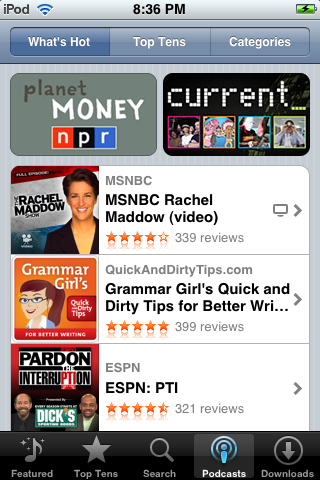 Here we go, Podcasts! This was a big feature that was added, now you can download any podcast directly to your iPhone or iPod touch. Another cool feature is that you can also stream video podcasts without downloading anything! It just plays right in the iTunes application on your iPhone or iPod touch!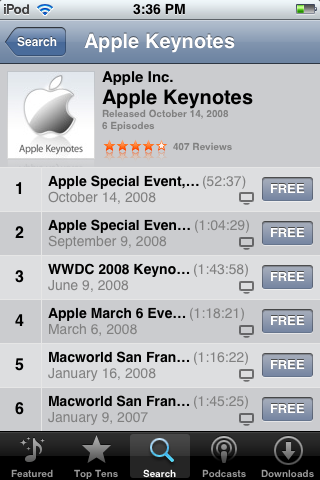 Here you can download or stream a podcast. I suggest streaming the keynotes, as they take up 1Gb+ of space!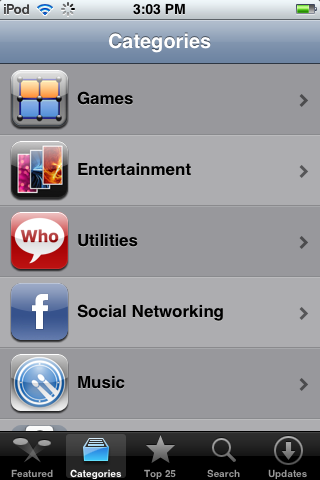 Here's another tweak. The App Store's "Categories" category, now is more user friendly, the original "Categories" had some little tab-like things. So now for all of those who have complained, here you go, a more user-friendly "Categories" category.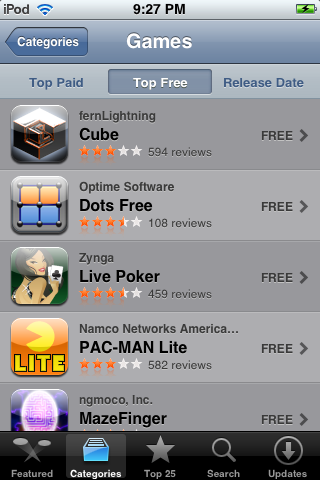 Now, this is new and not documented. Apple added the feature of browsing by Top Free (Games), Top Paid (Games) and Release Date (Games). These will make it easier to browse the App Store. For some reason about 3 weeks ago, I noticed that the App store only loaded applications by increments of 25, then you couldn't browse all of the applications on the App Store.
Well guys, that's what I have found on iPhone OS 2.2 (5G77a). Until the next post. I will have some news for you then.