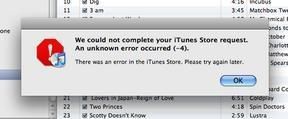 UPDATE: The Dev Team seems to have encountered a bug in the iPhone's ASR and they are also having issues hacktivating YouTube in 3.0. That's why the new QuickPwn and Pwnage Tool have not been released yet. Just sit tight. Wait it out. They are trying as best as they can. Don't worry, its just some small (Apple caused, non intentional) bugs that they are trying to live with. We'll post a new article when we do have a new jailbroken tool ready! Until then… 🙂
Hey everyone. As you may now know, iPhone OS 3.0 (7A341) has been released. Now, since everyone pretty much updated at the same time, Apple's iTunes Activation servers are temporarily down!
Just hang tight. Apple has released a statement stating that they are working hard to correct the issue.
Also, there has been no word (at the time I am writing this) on the new Quickpwn and Pwnage Tools. They should be live as well in about 10 minutes, as the developer Gold Master that I have is exactly the same as the 3.0 Gold Master that you all now have.