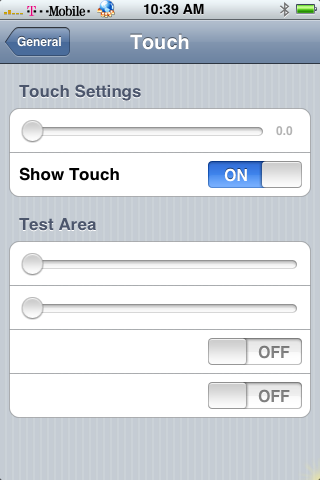 Are you one of the many people who is having problems with your touchscreen on the iPhone? Hack you hacked your iPhone, unlocked your iPhone, or a non AT&T customer? Now that Apple's warranty requires you to have an AT&T phone number to get your iPhone replaced or repaired, how do you fix your touchscreen problem?
There are a few options for you at the moment. You can purchase replacement parts, virginize your iPhone and try to return it, or modify your phone even more to try and fix the problem.If you are experiencing a touchscreen issue you can edit the sensitivity of your touch screen to make your iPhone more responsive. You simply need to replace your general.plist file with a modified version found here:
UPDATED:
You will need to overwrite your general.plist located in Applications/preferences.app
The default sensitivity on the iPhone's touchscreen is 3.5. You have the option to set it from 0-16, where 0 is the most sensitive. Recently I have had a few issues with my touchscreen and applied this modification and everything is working 10x better.
This hack may work for the majority of iPhone users, but there may be a few that will need to replace their LCD completely.
You add the code below to the General.plist:

<dict>
<key>cell</key>
<string>PSLinkCell</string>
<key>label</key>
<string>Touch</string>
</dict>
Yost edited the General.plist file, for people who have a dead strip on the top of the screen, so that the touch option is now on the bottom right under "reset" under pref>general>touch.
(take out the "." in the link in "rapid")
heres the link to download it if you have a upper dead strip:
http://ra.pidshare.com/files/7620461…ral.plist.html
1.0.2 firmware General.plist for low dead strip:
http://ra.pidshare.com/files/6058341…ral.plist.html
1.1.1 firmware General.plist for low dead strip: