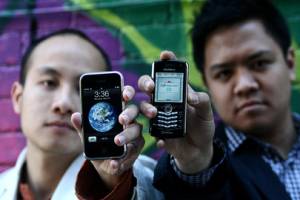 It appears that Apple is losing the fight in the "Smartphone market". iPhone has lost market share in these past few weeks. The iPhone has dropped from it's fourth quarter market share of 26.7% to a market share of 19.2% in the first 2008 quarter.
This could be the real reason that Apple has cut down the production of the iPhone. As in, this may be the real reason that the iPhone is "temporarily out-of-stock" on online stores. It could also be due to the upcoming release of the 3G iPhone.
The loss in market share is most likely due to the cost of the iPhone. Not a whole lot of people would buy such an expensive device when there are much cheaper alternatives. Hopefully Apple can get it right this next time around with the 3G iPhone.
-Alan Vazquez