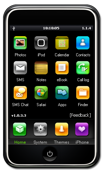 All right then, apparently there has been some confusion with iPhonePCSuite. After the article got posted, I received a notification to make another article explaining how it works and how to use it. So, I will do just that. I will try to make this as clear and as understandable as possible. Okay, let's get started….
How to get iPhonePCSuite to work:
Alright, the first thing that you have to do is download iPhonePCSuite from here: Rapidshare or
MediaFiree
Installation: This is one of the greatest features, No Installation. All you have to do is, after you download iPhonePCSuite, just extract the folder, and open it. Now find the file that is called "iPhone PC Suite" Alright, just double click the file. It will open (Or if it doesn't, check you "Start" bar, it should be in the "quick launch" part of the bar (By where the time is displayed), now choose "Switch on iPhonePCSuite".
Alright, now let the program start all the way. Now, if you download this application from the links that I gave you, it will ask you to update it, now let the application update. As of right now (11:15 a.m. Central Time, June 21,2008) the version (after updating) should be 1.0.7.2, so now you are ready to use iPhonePCSuite!
NOTE: If you are running Windows Vista, you will have many complications, I suggest just using this application with Windows XP Service Pack 2.

Preparing your iPhone/iPod touch for iPhonePCSuite:
Alright, now you are going to have to prepare your device so that it can be used with iPhonePCSuite, You will have to reboot your iPhone/iPod touch before connecting to your computer. (This is so that you will have a smooth process) After reboot is done, connect your iPhone/iPod touch to your PC using your standard 30-pin dock connector cable. iPhonePCSuite will give you a warning notice, 1) If you jailbroke your iPhone/iPod touch with Ziphone, you have to install a package called "Ziphone iBrickr Fix" from installer. The source is: http://i.unlock.no
2) Now after your Ziphone jailbroken device is ready (Or if you didn't need the step before this) you will have to connect your iPhone/iPod touch back to your PC and when iPhonePCSuite is ready, it will prompt you to follow some steps, it will want you to install "Suite Daemon" just click Install, now when it asks you to restart your iPhone, do it, now tick the box when it is done, after iPhonePCSuite recognizes your iPhone/iPod touch, it will ask you to reboot again, do it, when it's done, tick the box. After it is done rebooting, you will be ready to use iPhonePCSuite!
The features:
Now iPhonePCSuite is a great application that allows you to cruise your iPhone/iPod touch's file system in a cinch. So let's start with the basic UI. (User Interface) This UI makes the iPhonePCSuite very easy to use. So when the application is ready to use (and you have your iPhone/iPod touch plugged in), the application will be ready to use when all the icons are present. So in the upper right corner, it will show your Firmware version. In the top middle, it will show the real time, and on the top left, when your iPhone/iPod touch is connected, it will show you a USB symbol to show you that it's ready to use. Now for the icons. (I will go from right to left, row to row, going down)
"Photos"- Photos let's you upload or download photos in your camera roll.
"iPod"- iPod let's you make play lists for your device without using iTunes. It also let's you drag and drop media into/or download files off of your iPhone/iPod touch.
"Calendar" – Calendar let's you add/remove events from your calendar.
"Contacts" – Contacts let's you add or remove contacts from your iPhone/iPod touch's database.
"SMS" – SMS let's you keep track of your SMS messages on your iPhone, in real-time.
"Memos" – Memos let's you add or erase Notes that you have stored in the device's database for Nots.app
"eBook" – eBook, let's you add or remove eBooks that you can get from Installer. It also let's you make eBook files. It converts .txt files into HTML files for your Books.app (Or whatever you use) to use.
"Log" – Log let's you view your recent, missed, and dialed calls in real time. It let's you delete them one by one or export the database into .txt form for your records
"SMS Chat" – SMS Chat allows the user to have conversations with people using SMS. Since your iPhone is connected to your computer, SMS Chat makes a chat with a friend easy with it's very easy to use interface.
"Bookmark" – Bookmark allows the user to make bookmarks for Safari. All it asks you to do is give the bookmark a name and a URL and Bookmarks will do the rest. Web Clip support coming soon.
"Apps" – Now, apps is a very beta part of the iPhonePCSuite. (I do not recommend using it) what this is supposed to do is install packages from Installer.app sources directly onto your iPhone/iPod touch without Wi-FI! This feature will hopefully be fully developed soon so that Wi-Fi usage will be a thing of the past.
"Files" – Files is the most commonly used program. This is the Finder type application that let's you transfer files to and from your iPhone/iPod touch and add/change permissions to files without SSH, FTP, or Wi-Fi!
Now, by clicking on "System" in the dock, it brings you to another set of applications.
"Backup" – Backup is a very useful application for everyone! IT does what it's name suggests, it backs up virtually everything that you want it to backup (Database wise)!
"Restore" – Restore let's the user take what they backed up using Backup and overwrite all of the databases in the iPhone/iPod touch that you want it to.
"My Code" – Okay, honestly, I have no idea what this does, I can't read Chinese.
"Capture" – I believe capture allows you to remotely control your camera using this app. Then after you take your pictures, they are saved in your camera roll.
"News" – News is an RSS Feed organizer. It is for all of you people who love RSS feeds.
"Firewall" _ I believe that this firewall is to clock out unwanted callers and such. (I have not tried using this) You must install something if you want to use it, just follow the steps it wants you to do.
"Purview" – Purview is a resetting device, It will reset the database or cache for your for the selected items that you want.
"Feedback" – Feedback is for you to provide feedback to Panda software.
Personal (Dock)
"Sound" – Sound allows you to change the sounds and system sound on your iPhone/iPod touch
"Ringtone" – Ringtone allows you to set your ringtone on your iPhone.
"Themes" – Themes allow you to load themes into your Summerboard folder on your iPhone/iPod touch.
"Wall" – This allows you to load wallpaper into your iPhone/iPod touch's folder that the Wallpaper.bundle uses. It also allows you to see how it will look like on your device.
"Alarm" – Alarm allows you to add alarms into your Clock.app
"My Tune" – My Tune allows you to make ringtones for your iPhone!
Turn Off
If you click it, you will have 3 options the first, log-off, that will restart your springboard. Restart, allows you to reboot your iPhone/iPod touch. Turn-off, turns your device off.
How to use these:
I will only explain how to use the most important features. I'll list 10 of the most important and most widely used features.
"Photos" – No when you click photos, it will ask if you want to download or upload a photo, click on what you want to do. By clicking on the download it will show you a message, click "next", now click on the images you want to save to your camera roll. Now click next after you're done, select the directory that you want your images in on your PC, and do it. Now if you press upload, press next, choose the folder that you want the images to transfer from. Now Do it!
"iPod" – Now when you click on it, it will show you the interface. Just click in the category that you want to go into. You can search the category by using the searching option on the top right part of the screen. You can drag stuff, into your iPhone/iPod touch, or copy stuff from your device onto your desktop. To make a play list, and load it with music, go to "File" -> "Create Play list", now name it and start adding music to it in anyway that you want. You can also restore you database by going to "Tools" -> "Restore Database"
"Calendar" – To see your entire events click on the "Schedules" button. To see what you have to do on today click on "Calendar". To add events, click on "add". Now on the right pane, just fill out everything that you need to describe your event. When you're done click on the "Update" button on the lower right of the screen. Your iPhone/iPod touch's springboard will restart and your database for Calendar.app will be updated. Now you can go into calendar, and look at the event you just created! To delete an event, go to "Schedules" click on the event you don't want and click on "Delete", then click on "Update"
"Contacts" – No you are presented with your contacts database. To add a contact, click on "Add". Fill out what you need for your contact, and when your done click on "Update". To modify a contact, select the contact that you want to update, and click on "Modify". Change what you need to modify and click on "Update" Springboard will restart, and databases will be updated.
NOTE: Contacts don't load right, they will be loaded at the top of your contacts list
"Memos" – All you have to do is click on "New Memo" and then add the title that you want, then add your note. When your done hit "Save", then click "Update" when your done. Springboard will restart and your database will be updated.
"SMS Chat" – Here all you have to do is click the "+: symbol, then you are presented with your contacts database, click on the contact that you want. Cow click on your message in the box, now click "Send". It will be sent. When you get a text message on your iPhone, it will be displayed in "SMS Chat" so you can pick up your chat.
"Files" – You are presented with your "/" directory. Double click on the folders in the right pane to go into that folder. Just drag stuff into where you need them. To change permissions, right click on the file (s) that you want to change permissions, and click on "Permissions". Choose what you need the permissions to be. Also, instead of double clicking a bunch, you can go straight to a directory by clicking on "Favorites" that is located at the very top of the app's window.
"Back-Up" – To use back up, you have to choose what you want to have backed up. And click on "Backup Now", after it's done just exit out.
"Restore" – Choose the backup folder that you want (I'd choose the latest one) then check/uncheck the stuff that you want/don't want backed up. Then click "Restore Now" When it's done just exit out.
"Wall" – You are presented with a "slide to unlock" screen. Now, to load up some wallpaper, click on "Add" select the file that you want to preview/upload. After it's uploaded into the Simulator type thing, click on the thumbnail to bring it to the simulator. To Edit the picture, click on edit. You can Zoom IN/Out, and Rotate. When your done click on "OK", now if you're satisfied with the finished screen, click on "Set as Wallpaper" to make it your wallpaper. To sync all of the images that you loaded onto the simulator, click on "Sync to iPhone". Now they will be loaded onto your device. You can access them in Settings->Wallpaper (iPhone) or Settings->General->Wallpaper (iPod touch)
"Turn Off" – Now to restart your springboard, click on Turn Off->Log Off, to Reboot click on Turn Off->Restart, to Turn Off->Turn Off.
"Bookmark" – To make a new folder for your bookmarks, click on "New Folder". To make a new bookmark, click on "New Bookmark" Make a title, and add a URL. To delete a folder or bookmark, click on the bookmark that you want to delete and click on "delete" Now, when you're done with what you need to do, click on "Sync to iPhone" after it's done, you can exit out.
Alright, this was my super long, detailed manual. If you would like me to explain anything else just leave a comment and I'll explain it.
-Alan Vazquez