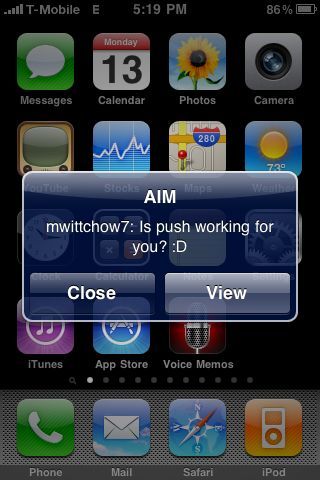 Well, here is something interesting. It seems that a Czech-based developer claims that Apple is preventing Push Notifications from working on unofficially (yellowsn0w or ultrasn0w unlocked iPhones).
Here is his quote:
"According to technical documentation, every Push application has to request the unique token from the Apple's APNS servers to identify the device it's running on. Thanks to that token, APNS servers always know which device is yours. The token can be understood as an IP address — the server has to know where to send the notification and for which application. APNS can also change your token regularly for higher reliability, so it's critical that the application requests the token again on every start (or when enabling the Push feature) to replace the old one if new token is forced by APNS.

On any unlocked iPhone , the application requesting the token is stuck. APNS does not provide any response at all and the application can either cancel the request completely by automatic timeout or let user wait with the progress bar forever. Either way, the user will never receive any Push message, because APNS has not provided the token."
Well, this may prove why the iPhone Dev Team can't hacktivate Push Notifications. Well, us here at Limited Edition iPhone have Push Notifications working.
Me and Mike can both use the AIM application (with Push Notifications) just fine on T-Mobile with our ultrasn0w unlocked iPhone 3Gs.
So according to him, T-Mobile USA's APN token shouldn't work with Push Notifications, so how are ours working? Well, could it possibly have something to do with us activating Push Notifications by activating with an AT&T SIM first?
I'm not sure. T-Mobile USA's APN token should still not work with Push Notifications (if what this developer says is true), because I don't have an AT&T SIM in my iPhone, so it shouldn't broadcast any AT&T stuff. So what's going on?
Tell us what you think. Tell us if Push Notifications are working for you in your country and unofficial carrier, we would love to get some more insight on this.