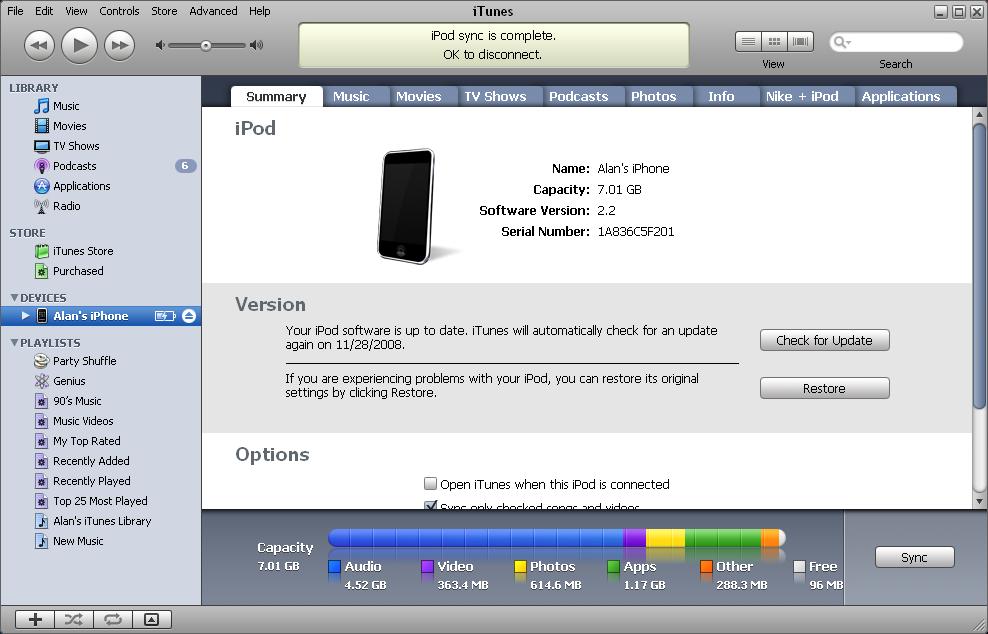 Alright guys, sorry for the delay/lateness of updates, but we have been really busy trying to sort all of this out. Well, let's get started.
Before all of you even think about downloading an installing firmware 2.2 (if you don't wanna listen to our warning on not updating under specific scenarios) then you have to completely uninstall iTunes 8.0.1. I am telling you, don't try and just update with the Apple Software Update utility on the Mac or PC. This only worked for my in one occasion with this new iTunes build.
So after you uninstall it, go here and download the iTunes + Quicktime Installer package, for either Mac or PC. Then after you install it, reboot your computer. After you are rebooted, open iTunes, and accept the license agreement. Next is crucial, go into "iTunes Store" on your computer, and download any free application, or update an application, it should now prompt you to agree or decline a new iTunes Store license agreement. Agree, and now connect your iPod touch or iPhone.
Now click on "Check For Updates", after you have done so, let iTunes as you if you want to "Download and Install" or "Download Only", click on "Download Only". (You might need the firmware soon) Now let iTunes download the firmware file, and let it finish. Now go back to the iPod touch or iPhone tab in iTunes, and now click "Update".
Agree to the terms and services prompt, look at the features, and say install. Now you are off to the races. The iPhone or iPod touch should display the Apple logo with a new progress bar. (I wanted to take a picture of it, but when I was about to snap a picture, the progress bar went away)
So there you go. You are now updated to iPhone OS 2.2. Nothing should have happened to the Applications or Media that you had on your iPod touch or iPhone before updating.
This is the safest and smoothest update that I have had with the iPhone and iPod touch. It took about 5 minutes for me to download then install. Magnificent! When I say that this is the smoothest update, I mean it. I used a different PC than I have at home, and I just did what I told you, and nothing on my iPod touch (2nd Generation) nor my friend Ethan's iPod touch (2nd Generation) was out of place after the update, content , preferences, and application wise.
So good luck, and in the next post, I'll talk about my first impressions and some other things that I found interesting, post-iPhone OS 2.2 updating.