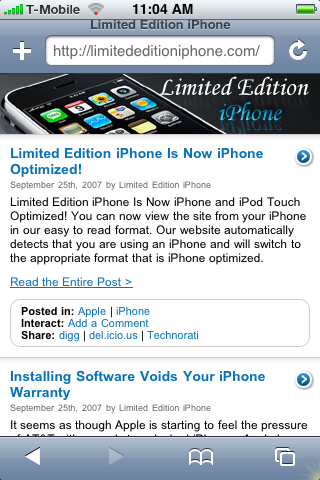 Limited Edition iPhone Is Now iPhone and iPod Touch Optimized! You can now view the site from your iPhone in our easy to read format. Our website automatically detects that you are using an iPhone and will switch to the appropriate format that is iPhone optimized.
If you are interested in making your site iPhone optimized and are using WordPress be sure to check out the iPhone optimization plugin created by Contentrobot.
Installation
Extract the "iwphone-wordpress-plugin-and-theme" folder.
Locate the file "iwphone.php" inside the "iwphone-wordpress-plugin-and-theme" folder and upload it into your wp-content/plugins/ directory.
Locate and upload the entire folder named "iwphone-by-contentrobot" into your wp-content/themes/ directory.
Go to your WordPress administration area and click on Plugins and activate the plugin called "iWPhone". Do NOT make the iWPhone-by-ContentRobot theme the current theme under Presentation.
Launch Safari on an iPhone or iPod touch and enter your blog's URL, and you should now see your content in the iPhone/iPod touch-optimized theme.