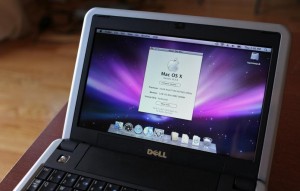 Hey everyone. This was a very long awaited update to Mac OS X Leopard. This 10.5.7 brings users "bug fixes, stability fixes, and overal performance enhancements". We've all heard this Apple stuff before. They are never speccific with anything.
Well, this update was long awaited for iPhone OS 3.o developers because notes syncing was disabled until this update dropped to the public. The reason for this is unknown as iPhone OS 3.o beta 3 and below could use note syncing on Mac OS X 10.5.6.
So is this it? Yep. But wait, what is this?! Many hackintosh users are reporting that they are having some major battery life increases. Why is this significant? Well hackintosh systems usually use Atom based systems.
Could this confirm the existance of a new MacBook with an Intel Atom processor? Only time will tell. Just don't expect any new MacBook announcements at WWDC 2009.