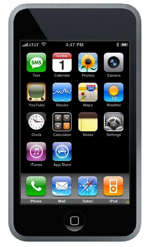 Yes, here we go again. A new Apple legend is (most likely) going to have an upgrade. Now, I am going to be the first to expose this story, because I have compiled many pieces of plausible information. Now, I'm not just saying that there will be a new iPod touch, but I am also going to project another price drop.
(The picture above is a screenshot that I took on my iPod touch and I Photoshopped the screenshot so that it is in an iPod touch, the screen on the picture is really what my iPod looks like! Pretty cool, huh? It's running firmware 1.1.4! I made it look like iPhone 2.0! For more info, leave a comment or tell me what you think.
Now, let me start off by stating the obvious, yes this is Limited Edition iPhone, but this could further affect the future of the iPhone 3G. Now, let's start with the price of both devices. iPhone 3G=$199-$299 (Well, that's what Apple wants to make us think) and the iPod touch is $299-$499. See anything yet? Anything wrong with this picture? Let's start by saying "Whoah!" The iPod touch is currently more expensive than the iPhone 3G! Also, not only do you not have any speakers, camera, or phone capabilities, but you have to pay for your firmware updates! So this leads me to believe that Apple will have to make another model and/or a major price drop.
Also, wouldn't it also make sense if Apple would also release a new iPod touch just like when Apple released the iPod Touch just 3 months after official iPhone release? This would lower the iPod cannibalization in their market.
I also have another interesting fact, there seems to be a steady growth of iPod touch shortages. Just like when the iPhone rumors began. Hint. Hint. I am pretty sure that there will be a new model. So I am going to say "Here We Go Again!"
This could also prove a bit dangerous, if Apple were to lower iPod touch prices, they would have to cut iPod Classic prices, then iPod Nano prices, then iPod Shuffle prices. This would be the only way to ensure a non-cannibalistic market for Apple.
I still have other valuable leads, but I need to have some confirmation before I can share them with you all. So be sure that there will be more to come…
-Alan Vazquez