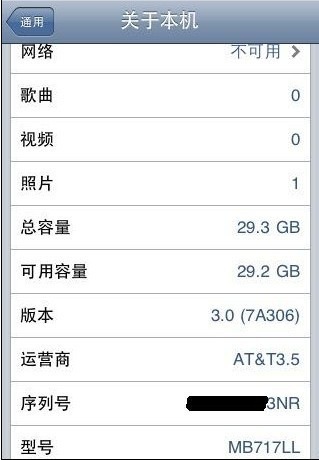 Hey guys, well iPhone 3rd Gen rumors keep piling up and this time we have a screenshot from an anonymous donor.
The above screenshot shows the alleged new iPhone that is expected to be announed at WWDC this year. So what can we tell? Well the forst thing is that it is in chinese. Why is this significant? Well in earlier news I suggested the existance of 2 new iPhones, one for China and the others for everyone else.
The next thing I would like you to look at is the model number. MS717Ll 9. Now the model number is hard coded into the devices so the only was to fake this would be to use photoshop and do it manually. There doesn't seem to be any evidence suggesting that this is a fake.
Something that it shows is the capacity! To me this sugests that the long awaited iPhone 32GB will finally come to be. This also means an iPod touch 64GB is ready to go as well.
Next is the firmware. Look at it. It is 3.0 but a different build number. A build number that suggests that it is out of the beta stages. "7A306".
The anonymous donor also says that the next iPhone will have an over clocked CPU at 600mz from the current 400mz.
Also, they are saying that Apple will also double the amount of RAM from 128mb to 256mb.
They have also confirmed the existance of a 3.2 mega pixel camera with autofucus , digital compass, and an FM radio.
They also go on to say that there are no big changes to the casing. Same screen, back, and battery. So there you go. I'll update this post with any more info as soon as I get it.
UPDATE: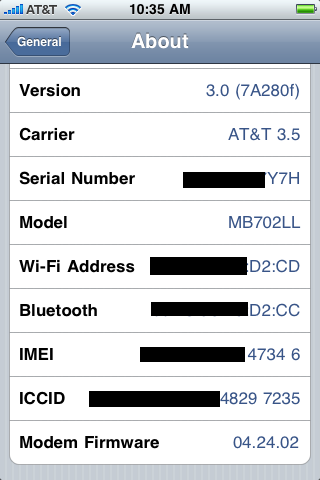 Now there is something that just now caught my attention. The AT&T 3.5 carrier bundle. The AT&T and 3.5 are smooshed together like this "AT&T3.5" while the real AT&T 3.5 is like the screenshot from my iPhone. The bundle is displayed like this "AT&T 3.5". This is very weird.
Especially if its "from china" and it is on AT&T?! Something doesn't seem right to me.