Our close neighbor, ColorWare, was kind enough to send us a customized iPhone for review. The color pink was choosen back in October, during breast cancer awareness month. On their website it states that it takes up to 2 weeks for delivery. 2 weeks would be too long for me to last without my iPhone, so the best option would be to buy a brand new customized one from them and then sell your old one when it arrives. Read the full review below.
Pricing ranges from $145-$219 based on options that you choose. Although that may seem like a steep price to some, you have to remember that its totally unique.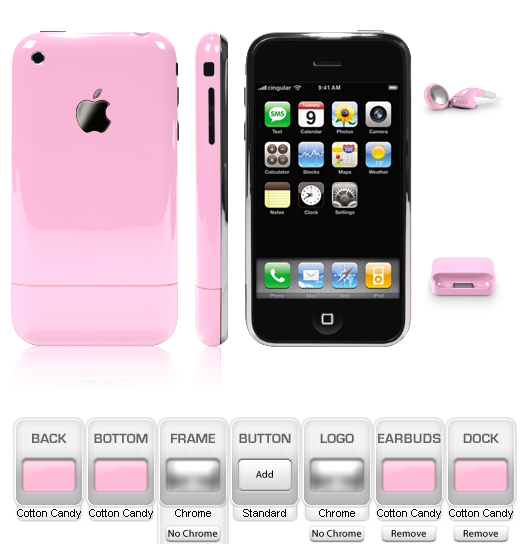 Options include customizing the back, bottom, frame, button, logo, dock, and headphones. Currently their are 18 metallic colors to choose from and 10 solid colors. ColorWare has a nice customizer on their website so that you can customize on the fly. You are instalty able to preview what your iPhone will look like.
Shipping took the full 2 weeks. They sent the package in a well packaged box sent via FedEx Saver. The box cover was replaced with their own which looks very nice as you can see it in the pictures. The Phone and accessories were placed back into the box with the plastic all reattached to help protect them.
Overall I would have to say that although the price gets pretty pricey if you customize it to its fullest its a wonderful buy. It turned out way better then how it is depicted on their customizer. They only drawback that some people may not like is they put their logo at the bottom where you would dock your phone. Personally I do not notice it and do not mind it at all. I would highly recommend getting your iPhone customized by ColorWare. Everyone who has seen the pink iPhone now wants an iPhone. I am also tempted to get a Macbook Pro customized by them since their quality is excellent and looks like it was done at the Apple factory. You can view all of the pictures on flickr