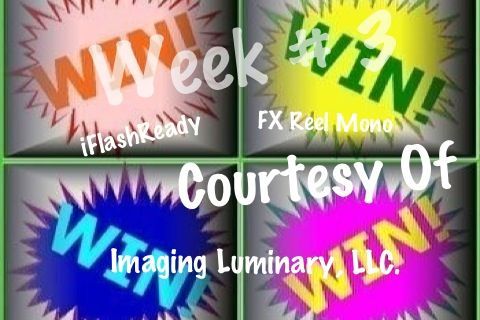 Winners List:
iFlashReady: Andy, Eric, iBlackguy, Tarah, Tom VBS
FX Reel Mono: Chris, Tony, Ali B, Justin, Richard
Winners will receive an email with details. Please be sure to check out our next contest coming out soon!

Hey guys, well, we are at week 3 with our month of giveaways! Weeks 1 & 2 were awesome, and we hope to continue that trend.
Well, enough of that, well, this week we have 2 gems to giveaway from our good friends at Imaging Luminary, LLC!
This time, you can reintroduce yourself with iFlashReady and its cousin FX Reel Mono! We are giving away 5 copies of each!
We know how much you loved iFlashReady so we're bringing it to you again! If you didn't win before, make sure to get in on the action for another chance to win it!
(Now, to tell you the truth, I do not have much for week 4, lol, I'm trying, but if you have any suggestions, post them with your contest entry!)
NO DOUBLE, TRIPLE, OR WHATEVER POSTING WHEN DOING THIS!
I bent the rules last time, but that will not happen this time. So tell me what you would like to see us giveaway on week 4, and I will talk to the corresponding developers.
Again, our standard rules apply:
•Leave a comment below. You can say something nice, you can say "I want it!", or even "I love you (Alan/Mike)!" if you feel the need.

•You may only enter this specific giveaway once. If you enter this giveaway more than once you'll be automatically disqualified. We have iPhone OS enabled robots, that not only kick ass, but they also check to ensure fairness. In other words, be careful when commenting or our very own iBot will be very angry.
•NO DOUBLE POSTING! Period.
•Contest is open to anyone worldwide!
Winner will be chosen randomly.
This time, the giveaway officially starts on Monday, August 3, 2009 @ 12:00:am (central time) and will officially end on Sunday, August 9, 2009 @ 11:59:pm (central time)!
So there you go ladies and gentlemen, you know how this goes down! Have at it!
Good luck!