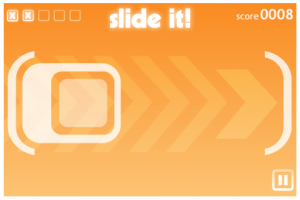 So you thnk you're fast?
React, created by a local company in Minneapolis named DoApp, gives you the chance to prove it. You will have the opportunity to refine your reaction skills by racing against time. The faster you make the correct move the more points you will get. You will be given four tasks: pinch, poke, slide and shake. Each task will come in a different order and will get faster as you progress.
The key to the game is to hold it in one hand so that it is easier to pinch when you need to pinch. I find it hard to pinch with my two thumbs if you are holding it like a game controller. For only $0.99 the game is really entertaining and challenging. It gets pretty hard as you get deeper into the game. One thing that I did notice is that it not as sensitive as I would like. I had a bit of trouble with the shake task. It would not recognize it unless you shake pretty hard.
DoApp will be part of or Christmas promotion and giving a way a few copies of this game for free! Keep checking back here at LimitedEditioniPhone for more details on the Christmas contest happeing in the next few days.
React is available now for both the iPhone and iPod Touch on the App Store for only 99 cents! More information is available on their website.