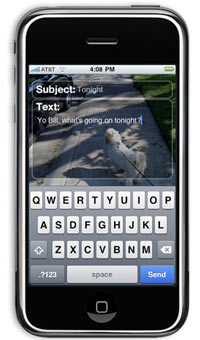 This application is so cool! This is great! How many times have you been walking and remembered that you needed to email somebody? Well, let me ask you something else, how many times have you tripped, bumbed into somebody, or almost got run over because you were walking and emailing? Yeah, that's what I thought.
This application is free for a very limited time, so act right now!!! This application is called Email N' Walk. This application uses your iPhone's camera to show you where you are walking, while also writing an email.
This is accomplished by placing a semi transparent canvas for an email while having the camera show you where you are. It is so cool.
Click here to go to the App Store and download it now!!! You won't regret it! (as long as its free)