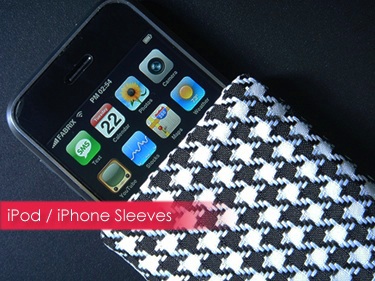 Fabrix Cases created an alternative to the SFBags iPhone Suede Jacket. The Fabrix iPhone cases are very stylish and can be custom made with any fabric you want. They also have a limited edition version. The case are made to fit both the iPhone 2G and the iPhone 3G.
The Fabrix case offers more padding that the Suede Jacket but it is also a lot bulkier. Up until now I have used the Suede Jacket because I keep my iPhone in my pocket. I love that the Fabrix Sleeve offers a little more protection in case I happen to drop it. It still will not save your iPhone from any fall like a hard case would, but the hard cases do not fit well in your pocket.
Pricing starts off at $21.90 for a stanard cases. You can choose from over 25 different designs. The limited edition iphone case is prices at $29.90.