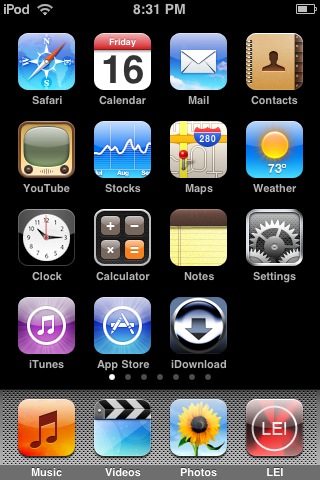 Hey guys. It's been a while since we've reviewed something for you guys, but here we go again! Today I have an application called iDownload to review. iDownload is an application for the iPhone (2G & 3G) and iPod touch (1G & 2G) that allows you to wirelessly download files that Mobile Safari wouldn't normally download. (Which is basically anything)
iDownload even allows you to download zip archives and executables such as .exe and .dmg. (Of course you can't execute them) It has some pretty intelligent coding in it, as it will read any file type that the iPhone OS is allowed to read. This includes any image files, PDFs, Microsoft Office Documents, iWork Documents, any audio file, any video file, you name it.
I have had wonderful experiences with iDownload after the recent update. Before the update, iDownload would crash on me, and occasionally corrupt my downloaded files. Now with version 1.0.2, iDownload is flawless. There is a hitch though, iDownload does not support Rapidshare documents yet. I use Rapidshare all the time, Silicon Studios has promised to bring that functionality to their application in the next update.
iDownload comes with some cool features such as:
*Download any file directly to your iPhone OS device
*Upload and Download files to and from your iPhone/iPod touch/Computer using a web browser.
*Save links so you can download your files later
and much much more!
iDownload is a product from our friends down at Silicone Studios. It is available on the App Store for $0.99! This is a great deal! Trust me, it's well worth the dollar. So download your stuff now with iDownload!
We here at Limited Edition iPhone and Silicone Studios are announcing that we are also going to give away some copies of iDownload, iTM Pad, iTM Keys, and their latest application, iTM DJ!
I will have more information about all of this in the upcoming few days!