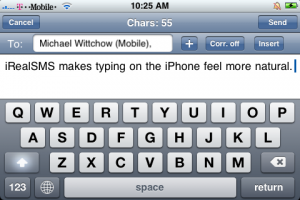 Apple needs to implement the capabilites of iRealSMS into the SMS.app on the iPhone. Almost everything you do on the iPhone you have the ability to tilt the screen and view a landscape mode. Their texting app is very flawed and many users are complaining. iRealSMS lets you text in landscape mode as well as many more features like search, templates, password lock the application, and the ability to reply via email.
When you first load up iRealSMS you will notice that it looks similar and functions like a mail application. You will see: Inbox, Drafts, Templates, Outbox, and Sent. If you do not need or want any of those items to show up you have the ability to remove them.
The Template feature is really cool. Say you send out the same message over and over again. You can now create a template and will never have to type the same message again and send it as many times as you want.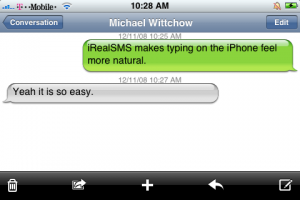 Another Tab at the bottom is the Converstion tab. When you click on this tab you will notice that it is almost identical to the entire SMS.app that is standard on the iPhone except you will have more options like Foward and Reply via Mail. You can also delete individual texts throughout the entire conversation.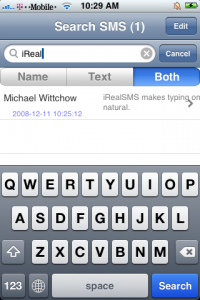 The next tab on the bottom is the Search SMS tab. You have the ability to search through all of your messages with ease. The search function works similar to Spotlight on the mac. As soon as you type a character it will bring up all of the messages with the character or charcters you typed instantly. You have the ability to seach for just the name of someone you had a conversation with, the body of the conversations, or both. You can also delete individual messages from that screen.
The best feature that iRealSMS has to offer is the landscape texting, but the only way to get this at the moment is to Jailbreak your iPhone as Apple will not allow this app into their App Store and has shown no sign of updating its SMS.app.
iRealSMS can be found on Cydia under the messaging category. You can download a free trial but to unlock all of the features you will have to fork out $13.00. You can purchase it here or try your luck in our upcoming Christmas Contest and win one of 10 licenses iRealSMS has donated. Please stay tuned. Details on the Christmas Contest will be up soon.