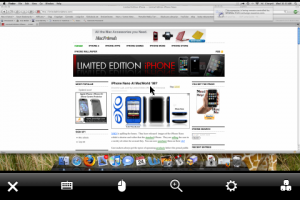 If you have never used LogMeIn before, today is the day to start. Even though I only use the free version of LogMeIn, I find myself using it everyday. With the release of LogMeIn Ignition for the iPhone it makes logging into my computers on the go simple.
I have been involved in the computer business since I could walk. I am always the one my friends and family goto when they have a computer problem. LogMeIn lets me remotely log into their computer and see everything they see on the screen and gives me the ability to take control of their machine.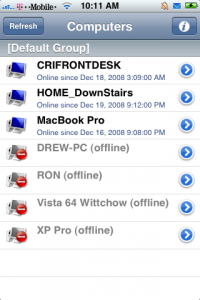 With your iPhone or iPod Touch, you now have the ability to work from anywhere in the world. You can remotely log into your work computer and attach that file or photo you forgot about and send off an email. You can log into your family computer and show photos you have saved. With LogMeIn ignition you have full control of your computers from the palm of your hand.
LogMeIn lets you access your computers from Safari but you have way more features with the application. One thing that I need most is the keyboard. Through safari the only way to type is to use a virtual keyboard application on that computer. With LogMeIn Ignition for the iPhone you press one button and the keyboard pops up on your iPhone or iPod Touch.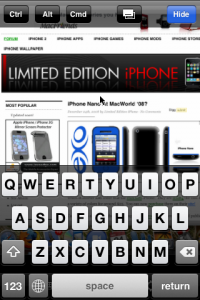 Some other really great features include:
* Ability to change the color quality, resolution, and the ability to to blank the screen and lock the keyboard so if others are in the room they can not see or stop what you are doing.
* You can also send Cmd-Tab and Cmd-` commands.
* quickly zoom in and out with a touch of a button.
* zoom in and out with pinching the screen.
* single tap, double tap, right click, and drag objects.
Although this is one of the more expensive apps on the App Store, it is well worth the money if you use LogMeIn on a day to day basis. For $29.99 you can download it at the App Store.
Check out the official LogMeIn for iPhone video:
[youtube:http://www.youtube.com/watch?v=acYcjpyzODI&fmt=22 425 350]