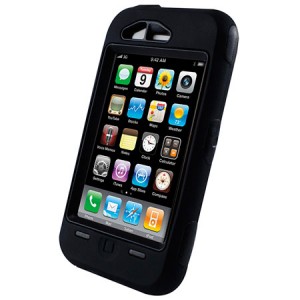 The folks at OtterBox sent us an iPhone 3G Defender Series Case. So far it has been one of the best cases we have seen in regards to protection but does have a few flaws.
The key features include: 3 layers of protection, Sync and charge through the case(see flaws below), Added bump, scratch, drop protection, and a sleek, slim fit to the Apple iPhone 3G.
Presentation: The box is very nice looking at packaged pretty well. Inside you get step by step instructions on applying the case to your iPhone 3G. Some cases you can just take out of the package and put on your iPhone, but the Defender case is a bit more tricky. The Defender comes with 3 main parts, the plastic shell, the rubber case, and a belt clip. The directions are very easy to follow and are in multiple languages with photos. They even have a video on their website with instructions.
Usage: The Defender Case for the iPhone 3G is an excellent case for those who want extra protection against drops and scratches.
Strengths:
– Very good drop protection.
– OK scratch Protection.
– 360 degree swivel belt clip.
– Hard plastic shell.
– Comfortable silicon case.
– Fully enclosed to protect against light liquid that could be damaging.
– Comes in 4 colors: Black, White, Yellow, and Pink.
– Reasonably priced at $49.95.
Flaws:
– Bulky.
– Air bubbles may form.
– Dust and hair are easily attached.
– Reduced volume.
– Can be tricky to remove from the belt clip.
– Protective screen can scratch easily and ruin the entire case.
– Cannot be used with some 3rd part charges.
Conclusion: The OtterBox Defender Case for the iPhone 3G is an excellent case for those who want maximum protection. Although the case fully encloses the iPhone 3G this case cannot be fully submerged under water. That would damage your phone. The plastic case offers great drop protection and the silicon outer case reduced shock. Since the Defender Case has a built in screen protector you may get air bubbles due to the glass of the iPhone and screen joining. This can be avoided by cleaning both the iPhone and the plastic screen on the case. At first I had a major spot in the middle filled with air bubbles. I took the case apart and cleaned both surfaces and only one tiny air bubble was left (probably because I missed that spot). Another issue with the attached screen protector is that if it gets damaged the whole case is pretty much toast.
It is nice that the case is fully enclosed because it keeps the dust out which causes problems to the speakers and can affect picture quality if dust in on your lens. I also like that fact that it will protect against light water damage. Speaking of dust, the case attracts its. I like to keep cases in my pocket. I am not a fan of belt clips. I noticed that the silicon case attracts a lot of dust and tiny hairs like to stick to the screen. The fully enclosed case also blocks the speakers and so your volume is slightly reduced. This is OK for me as long as I know my iPhone is protected.
The last major flaw that really upset me was the fact that my third party charger would not fit and so when I need to charge my iPhone I had to take the entire case off. The OtterBox Defender Case is made to be a permanent solution and is not made to be taken on and off. Overall I would rate this 8.5/10. I would recommend this case to anyone who doesn't mind bulking up their iPhone with full protection and likes to use belt clips for their cellphone. Some people may say that this case is expensive at 49.95, but remember you probably paid a lot for your iPhone and if you drop it and it breaks you will definitely have to pay a lot to fix it. So keep it protected and check out the Defender Case for the iPhone 3G designed by OtterBox.