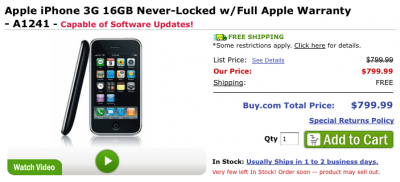 Buy.com has the iPhone 3G that is officially unlocked by Apple for for $799. Overseas Apple released an unlocked version of the the iPhone 3G because of certain laws in certain countries. Buy.com has imported those phones to the US for you to purchase.
An Officially Unlocked phone is unlocked by it's IMEI number which has been registered by Apple. IMEI stands for, International Mobile Equipment Identity, and every phone in the world has a unique number. When you connect the iPhone to iTunes, it check Apple's database and if your IMEI is registered with Apple your phone becomes Activated and Unlocked!
So if you want an Unlocked iPhone for use with T-Mobile or any other GSM carrier head over to Buy.com and pickup an officially unlocked iPhone 3G for $799. But do remember that a new version of the iPhone is expected very soon.