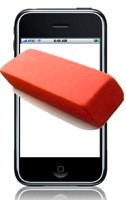 Are you selling your iPhone to get the 3G iPhone when it gets released? Did you know that it is possible for someone to recover your personal data even if you do a restore in iTunes? Continue reading to ensure you are protecting your data from unwanted eyesThe first thing that you will do is a restore in iTunes with all of the syncing options like photos, calender events, music, and videos turned off.
Next you will want to make 3 play lists that will completely fill up your iPhone so that you have no space left when you sync.
Sync the first play list and make sure iTunes shows zero free space. You can then proceed to the second play list. After that, sync the final play list.
The play lists will write over your personal data and the next person to use your iPhone will be unable to recover any personal data. Hopefully apple will come out with an easier way to wipe the iPhone clean.
-Thanks Hackaday