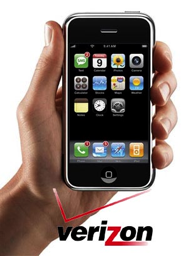 The head of the telecom giant seemed a bit irritated about Apple's march into the mobile phone industry when he answered a question posed by the Financial Times about Apple's chances of reaching the mass market with the iPhone 3G by saying, "There goes the conspiracy again. You're declaring them a winner before they've earned it on the field."
Seidenberg's main contention seems to be that the iPhone isn't a success because it has such a small share of the overall mobile phone market, which is sort of like arguing that GM is more successful than Ferrari because they sell more cars. While it's true that Apple has a long way to go before it dominates the U.S. mobile phone industry to the degree that Verizon does, it's only been a year.
Verizon reportedly turned down the chance to carry the 1st generation iPhone over disputes for the revenue-sharing agreements that Apple insisted on for its early launch partners.
In any event, the 61-year-old Verizon CEO's plan seems to involve waiting for Apple's 53-year-old CEO to retire as he, quote, said "Steve Jobs eventually will get old…I like our chances,"
This brings many questions and concerns to many, like me, as to what will happen to Apple's future without Steve Jobs. After being ousted from Apple, he returned and brought Apple back from the ashes with the iPod and now, the iPhone….
-Alan Vazquez