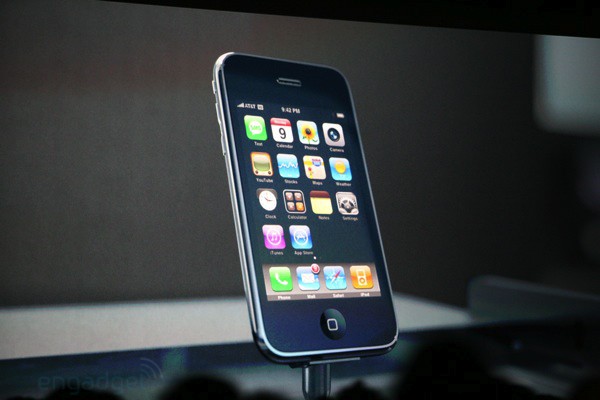 Sweet, it looks like Apple is going away from their traditional iPhone distribution method, to something a little more business like. According to many of my sources, I can tell you that Apple and Walmart are finalizing arrangements to sell the iPhone 3G at Walmart retail stores here in the U.S. starting on November 15th, 2008. Now this makes sense, due to the fact that the very busy holiday season begins a couple of weeks after that.
Now, remember, these are just rumors, but I am confident that we will see some announcements from Apple, and hopefully Walmart as well, in these next few weeks. I am also standing behind my story due to a few key facts, the first is that Apple has done this before and it is very possible that they will do it again in order to boost their iPhone sales before this year's end. The second, the economy, Apple has, and is, being hit hard by the troublesome economy, here in the U.S. and around the world. Their stock price has (in my opinion) plummeted in a very short time, which is a little scary to think about for me due to the fact that they have so much success here in the U.S., and around the globe. According to my Stocks application, Apple stands at a mere $96.80 share price, declining from a $169.53 on September 2, 2008.
Now, if I may say, WHAT THE HELL HAPPENED?! Why has Apple dropped so much in such a short amount of time? Well, most of it is due to the ongoing mortgage meltdown, as well as the credit crisis, but most recently, some more (proven to be fake) stories about Steve Jobs' health. CNN reported a few days ago that Steve Jobs had been rushed to a nearby hospital due to a heart attack. After this was said, Apple stock plummeted for 4 hours, until Apple released a statement saying that "the story is completely fake, Steve Jobs is here, alive and well…". A few stories like this have arisen in these past few months, but have either been plainly denied by Apple, or have been proven false. CNN's sources are, as we speak, being investigated by the FBI.
Why would anybody do such a thing? Who knows. This is not clear as of yet, possible sabotage. That is my only explanation. This just further proves my theory, "Apple needs Steve Jobs to survive, if he is gone, Apple is gone as well." So, we will just have to see if Apple is making the right moves with the new layout for iPhone 3G distribution and carrier selection, and by the looks of it, so far, I don't think stock holders are very convinced as of yet…