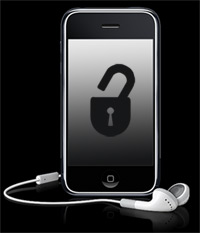 The iPhone/ iPod Touch Dev Team has finally found a way to jailbreak the 1.1.1 system. This has lead to the world's first unlock for the 1.1.1 iPhone from iPhoneSimFree, who is also providing free upgrades if you purchaesed the original unlock form them.
They have now tested SimFree v1.6 with phones that have the new Baseband version 04.01.13_G with full success. This now means that SimFree v1.6 release, is now capable of completely restoring/repairing software unlocked "bricked" iPhone. Those of you wishing to repair your phone, please read the following steps.
Steps for "un-bricking" your anySim or iUnock iPhones:

1. Follow the iPhone/iTouch dev team steps to bring your phone back to 1.0.2 system (your baseband firmware will still be the newer 04.01.13_G)
2. Register your true IMEI (found engraved on the back of your phone) with an iPhoneSimFree Reseller
3. Power down your phone and REMOVE your sim
4. Power up with the sim removed and Install SimFree.app 1.6
5. Follow this tutorial to execute the Simfree. app.
Here is the direct link to SimFree v1.6: Download SimFree v1.6