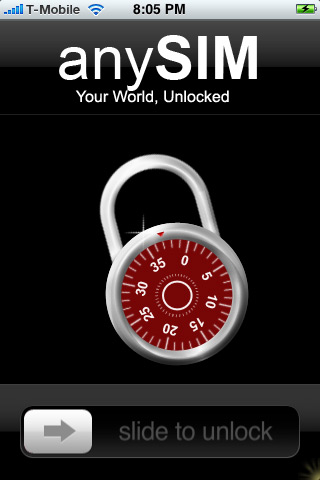 Please follow these easy steps to unlock you iPhone with anySIM. First make sure your running version 1.02 firmware.
Settings ? General ? About ? Version. Modem Firmware should also say 03.14.08_G
1) Connect your iphone to the computer and open itunes. When you get the "activate with AT&T screen or "invalid sim" screen close itunes
2) Download and run ibrickr (if you have itunes 7.4.x you will need to download this file and place it in the ibrickr folder for it to work), follow the instructions to "free your phone" (Involves rebooting your phone a couple times). Close iBrickr.
3) Then download this file, unrar it to a folder and run "(CLICK HERE) activate.bat" Follow the insdtuctions, including restarting your phone. If you have any problems here check out the YouTube fix
4) Repeat step 1
5) Run ibrickr again – Click applications. Let it install the PXL service. It will requre a couple of reboots of the phone.
6) Click Browse applications and download anySIM.
7) Go to settings – general – auto lock on the phone and set it to "never"
8) Tap the home button on your phone and then tap the "Anysim" application.
9) Wait about 10 minutes or so and you're unlocked. Congrats.
10) You can remove the Anysim application from you phone from iBrickr – just click the red icon next to it under applications